Women's soccer falls to Butler, looks to Rampone as inspiration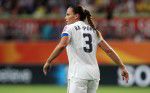 Despite dominating the stat sheet this past Saturday, the women's soccer team fell, 2-0, to Butler in its home opener at the Higgins Soccer Complex. In attendance was legendary former USWNT captain Christie Rampone. Rampone, who is good friends with assistant coach Danesha Adams, would have blended right into the crowd if not for the dozens of adoring fans who recognized her immediately upon arrival. Having won two World Cups and three Olympic gold medals, Rampone is a household name for serious soccer fans and a true legend of the women's game
Born in Fort Lauderdale, Fla., Rampone grew up in Point Pleasant, N.J. and has come to be heralded as the best athlete the area has ever produced. Exceptional on and off the field, Rampone has dominated athletic fields since her high school days at Pleasant Boro High School, where she was a four-sport athlete. 
Even at the college level Rampone continued to excel while balancing the demands of academics, social life and multiple D1 sports teams at Monmouth University. Though Rampone would go on to become a legendary defender at the professional level, she was a prolific striker at the college level, scoring 79 goals and assisting 54 in her 80 game collegiate career. All this while working towards a degree in special education, which she completed in 1996 before turning pro.
Rampone had been training with the Women's National team since her college years, but started her professional career with the Central Jersey Splash. She has bounced around a fair deal as the women's pro league has gone through some growing pains but the former USWNT captain has settled nicely at Sky Blue FC. Having been with the club since 2013, Rampone finds herself in the familiar role of captain as she leads the team in search of its second championship in its short history.
Rampone stressed consistency when talking about her experience at the college level and how that contributed to her success at the professional level. 
"You have to be more focused through that 90-minute period," Rampone said, "because anybody can have good moments in games, it's being consistent, and that's what you develop through the college level of playing a great competition every game, and being able to be consistent and take care of your body."
Coach Fran Kulas's young team would do well to heed these words from Rampone as it looks to score more goals and rack up some wins. Despite what its 2-8 record might suggest, the team has been dominating play and was in control of this past Saturday's game even after they lost a player to a red card. 
"It's been the story of our season," Kulas said. "We've had a lot of the ball, and we've had a lot of the chances, it's just the final product. But I'm proud of our players because they have stayed the course, and they are committed to our team values."
Kulas was particularly pleased with his team's determination and spirit as it continued to dominate against the reigning Big East Champions during the final 20 minutes of play after going down to 10 players. "Our mindset is to try and get points from every single game," Kulas said. "And the mindset and spirit of this group is fantastic."
Despite losing this first game of Big East conference play, the 'Cats continue to play attractive and positive soccer, and it is only a matter of time before their hard works pays off.
 "You have to be all in, and I know it's a crazy life being a student athlete here at Villanova," Rampone said, "You have to be focused and worry about everything else once you finish that game." 
Sound advice for the 'Cats as they look to put their struggles in front of goal behind them while continuing to dominate all other facets of the game. 
While the 'Cats won't have Rampone cheering them on from the stands in their next game this Thursday against conference rivals Georgetown, they will have the chance to get their first conference win.