Jay Wright Gives Summer Update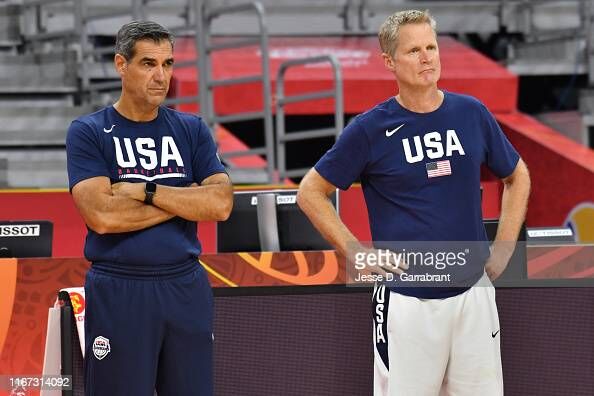 In a wide-ranging press conference, Jay Wright discussed his experiences with USA Basketball at the Tokyo Olympics, shared his thoughts on the new "alliance" between three of the traditional Power Five conferences and gave his first official updates on the health of several Wildcats, including Collin Gillespie, Dhamir Cosby-Roundtree and many others.
The meeting opened with the topic of realignment and the story that has dominated the collegiate sports landscape, as Texas and Oklahoma set off a mad scramble to secure scheduling nationwide by voting to leave the Big 12 and join the SEC. The Pac-12, Big Ten and ACC announced a scheduling partnership across all sports to counter the rise of the SEC, but as a member of the Big East, Villanova has been left on the outside looking in. However, that didn't seem to faze Wright, although he did admit that the Wildcats would have to be "creative" to stay competitive in a new collegiate landscape.
"We know who we are, we're a basketball school, and we're gonna have to find our way within this new world of alliances," Wright said. "Guys still come here because it's a basketball school, we play the best schedule, we compete for championships and we gotta continue to do that, we just gotta find the way to do that within this new structure as it unfolds."
Wright also described his experiences at the Olympics and the added pressures of coaching a team where anything short of a gold medal would be a catastrophe. The team won their fourth straight gold medal in Tokyo, despite dropping two early tune-up games and the tournament opener.
"When you're USA Basketball, no one cares about your challenges, your problems, just get it done, win the gold," Wright said. "Knowing that we couldn't lose, I was more nervous for those games than for any other game I've ever coached." 
He admitted that although it was a lot of pressure, it was "exhilarating" to be in that situation with the stars of USA Basketball and coaches Gregg Popovich, Steve Kerr and Lloyd Pierce. 
"I don't know what was greater [after we won], the relief or the exhilaration," Wright said.
Wright can now officially add Olympic gold medalist to his resume, and he will be able to add physical hardware to his crowded trophy case. Although coaches are not awarded medals by the International Olympic Committee, USA Basketball did give the coaches medals upon their return to home soil, exact models of the medals the athletes get.
The bulk of the Q&A session was focused on summer workouts and preparations for the upcoming season on campus, as the Wildcat offseason has been turbulent to say the least. The schedule was front-loaded so that Wright could spend as much time with the team as possible before taking on his Olympic responsibilities, but that meant that many of his players were dealing with injuries sustained during the season.
"Caleb Daniels had remaining issues from COVID through the summer that he struggled with," Wright shared. "He's completely clear [now], but he missed the summer. Jermaine [Samuels] had surgery on his finger, he played the season with a broken finger so he had surgery when the season was over [and] he was out until the end of July. Angelo Brizzi had complications with his adenoids, and then wound up getting his tonsils out, so he was out for awhile. And then Collin [Gillespie] was rehabbing, and then Dhamir. Everybody's 100%, everybody's back, Collin included," although he did add that Cosby-Roundtree was progressing slowly enough that his status for the season was still in doubt.
"We've gotta include the fact that he's been out for so long," Wright continued. "If he's gonna come back, how long is it gonna really take for him to be effective? If it's gonna take all the way until January, do we waste a year on him doing that? We start practice on the 28th of September, and then we're gonna try to make some type of decision [by then]. I hope I can, I'm swaying a little bit here, but I really want to do it by then."
Later in the press conference, Wright realized that he had not even given the full scale of Villanova's summer injury issues. 
"Justin Moore and Brandon Slater got into a car accident, and Justin had a concussion, so he was out for like three weeks, Slate was out for a week, but they're all good," he said.
 "It was a mess this summer," Wright said, laughing. "Our staff just did a great job of keeping everybody together, they really held it together. You'll notice that all the guys I've mentioned are the older guys, the younger guys got a lot of experience and a lot of time with the staff… we consider it as a really successful summer."
The Wildcats begin official preseason training at the end of September, which will include a behind-closed-doors scrimmage against Duke in Washington D.C. on Oct. 23. The official final schedule has yet to be released, but the first known game is a matchup with Mount Saint Mary's at home on Nov. 9, followed by a trip to California to face a UCLA team fresh off a 2021 Final Four appearance.