Men's soccer concludes season with historic NCAA appearance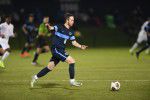 The University's men's soccer team had a historic season this fall as the program earned its first berth in the NCAA tournament. Head coach Tom Carlin and his players finished 5-3-1 in BIG EAST conference play. Their strong record, along with a couple of wins over nationally ranked opponents Boston College and Creighton, earned it the number three seed in the BIG EAST tournament, where it would make it to the semifinals before losing 1-0 to Butler after conceding in the 109th minute during the second period of overtime. Its strong showings in both BIG EAST conference play and the BIG EAST tournament earned it a spot in the country's most prestigious collegiate level soccer tournament.
This is yet another milestone for Carlin, whose record as head coach at the University is now 79-73-20. This season's total of ten wins is just two shy of the program record of 12 set in 1980, and which Carlin equaled with his team during the 2012 season. Having reached the BIG EAST tournament five times in a row following his promotion to the head coaching position in 2007, it was only a matter of time before Carlin guided his players the NCAA tournament. And despite losing 2-0 to a historically strong Akron team in the first round, Carlin remains optimistic about the team's prospects for the future.
"There's promise for us to get back there, because we return a lot of guys, and we've got another good recruiting class coming in." Carlin said, "I also think for our players it was good for them to experience it [the NCAA tournament], and to see what it's like. Now it's something that they can better prepare for."
The team graduates six seniors this year including stalwart defender Erik McKenna, who played in all 20 of the team's games and started 19. Also graduating this year is influential goal scorer and playmaker, Padraic McCullaugh. McCullaugh bagged four goals and five assists while playing in 17 of the team's 20 games, 13 of which he started. Despite graduating six seniors, Carlin will take comfort in knowing that his three standout players will all be returning next season.
Freshman defender Shane Bradley, junior forward Miguel Polley, and junior midfielder Andreas Bartosinski were named to the All-BIG EAST Second Team, with Bradley also making the All-BIG EAST Freshman Team. Polley led the team in assists, with eight, and was also the team's joint top scorer along with Lucas Hodges. Both Hodges and Polley managed six goals on the season. All three started every game for the University played important roles in the team's breakout season—a season in which the team had to make do without one of its top goal scorers from 2015, Max Kroschwitz.
"[Polley is] a fantastic player and really provided quality when we needed it on a daily basis, and really made our team better from the moment he arrived here." Carlin said, "He's more of a lead by example with his production and work ethic in practice." 
The program's future looks bright with Polley and many of the team's other influential players returning for the 2017 season to build on the many successes of this fall