Rob Rolle reflects on a life dedicated to the game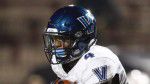 His competitive nature and hard working attitude started at a young age when he began playing Glassboro Midget Football at the age of seven. With hard work and preparation, he would excel with some of the best talent in South Jersey  by playing in the South Jersey Elite football league. Some of his youth football teammates and opponents are excelling at the colligate level and have a chance to make it to the NFL, including Wisconsin running back Corey Clement and wide receivers Dakeil Shorts of West Virginia and Juwan Johnson of Penn State. With all of the all-star talent on his youth football team, Rolle was groomed for higher levels of football. 
"My midget football team was stacked," Rolle said. "At an early age, I played with Corey Clement, my cousins Paul and Ronnie James who play at Rutgers, Juwan Johnson and Dakiel Shorts. This bunch of guys that I played with and against are all out doing big things coming from the little midget football programs that we played for.  It's cool to see where everybody landed and how they got there."
After playing Glassboro Midget football, Rolle transfered to Delsea Middle School in the eighth grade soon played cornerback for Delsea High School.
While he played wide receiver in his youth football days, defense was where Rolle's heart was.  After getting his first taste of varsity football as a sophomore which included two interceptions, he became starting cornerback his junior and senior seasons, leading the Delsea Crusaders to two New Jersey State Championships.
"I stick to the mentality that 'offense sells tickets, defense win championships,'" Rolle said. "In the two years my high school won state championships, we were lights-out on defense." 
In the spring of his junior year at Delsea, a number of colleges took notice at the talent level Rolle was producing on the field. His first offer that spring was from Monmouth University, followed by his only Division I-A school, University of Massachusetts.
Between the spring and summer of his junior year, he received more scholarship offers from a few CAA schools: University of Delaware, William and Mary and Villanova.
"When the scholarship offers started to pile up, I realized that playing college football was becoming a reality," Rolle said.
While he did not receive any "big-time" offers from highly-touted Division I schools, Rolle continued to have the mentality by playing with a chip on his shoulder.  
"In my head I told myself that I'm going to prove to the bigger schools that they shouldn't have passed up on me," Rolle said. 
That same summer, after attending Villanova's football camp, Rolle was invited to the Main Line on an unofficial visit from Head Coach Andy Talley and his coaching staff. He remembers his visit like it was yesterday.
While his father could not attend because of work, Coach Talley drove Rolle and his mother around the campus in a golf cart. He and his mother were impressed with the academic standard at Villanova, as well as the brotherhood that existed amongst current and former players.
When he was in Coach Talley's office, he was talking to a former player at Villanova about the rivalry between Delaware, known as the "Battle of the Blue."In the end, it was the image of his mother's face that sealed the deal.  
"From that moment I just knew this football program was a family," Rolle said. "These teammates are my brothers, these coaches are like father figures. When they say that they are going to take care of me, on and off the field, that was a big thing. I didn't know how much a Villanova degree meant. Then I realized that the more time I spend here, my experience as a Villanova Wildcat, including the alumni I meet, made me feel comfortable about the school."
What also helped Rolle's decision was playing for a highly touted and successful coach in Andy Talley.  It truly meant a lot to Rolle knowing that he was going to play for "The Godfather" of Villanova football. 
"He's not here just to cash a check and win as many games as possible," Rolle said. "Just knowing that I was coming here and playing for a guy who had principle, good character and a coaching staff who's been here over a number years together stood out to me. He's the winningest coach at any level of college football. He's the OG in the game. Playing for a guy with that kind of character was a real bonus for me."   
In his freshman season at Villanova, Rolle played seven games as cornerback as well as special teams. It wasn't until the spring of his sophomore season when he moved to safety that he was able to make more of an impact on Villanova's stout 3-3-5 defense.
"My body type is made for a safety," Rolle said. "I'm taller, lankier, cover a lot of ground and I am able to play the ball in many different ways.  The move to safety allowed me to use my football instincts more as well. Instead of being on an island with a receiver, I was more implemented into the scheme of the defense."  
This past season as a junior, he was able to show his talents in all facets of the game. He was fourth on the team in tackles (63), piled up seven interceptions andhad two touchdowns.
His first score was a fumble recovery against the University of Pittsburgh in the first game of the season, followed by a 104-yard interception return to the house against Towson.
Part of Rolle's success this season was because of his "Ball-Hawk" mentality.  He picked up on this by watching film on Tyrann Matieu of the Cardinals, whom Rolle tries to model his game after.  
"To be honest, that's something where people have it or they don't," Rolle said. "Tyrann Matieu is my favorite defensive back. Regardless of who the Cardinals play, you know he's going to be around and make a play. From his time at LSU to the NFL, you wonder why he is stripping running backs with ease, despite his 5'9", 186 pound frame. It's because he has the 'it' factor in his heart. That's why he's the honey badger. He's not the fastest or the strongest player in the NFL, but he brings intensity and everyone knows they are playing against a good, sound football player. As for myself, I wasn't the fastest or the strongest either. Other players I play against are more athletically developed than I am. So I need to stand myself out and make some big plays in order to give my team a chance to win."
More importantly, he credits his breakout season to his teammates on the Villanova defense.
"It was kind of surreal, but I don't feel like I did this alone," Rolle said. "My success and my progress are accredited to my teammates. My interceptions occurred because of tipped balls or because of the scheme we were running. Everyone on the defense has a job to do, and without them doing their job, I wouldn't have had the personal success and accolades like I did this season."