Editorial: Critiques on construction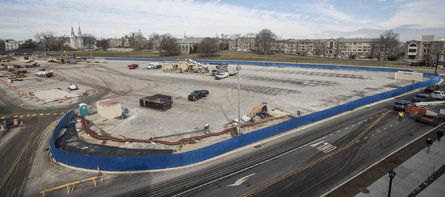 There is nothing like walking through campus and taking in the sounds and smells of construction. Breathing in the sawdust. Hearing the ring of power tools. If you haven't noticed, there are plenty of campus renovations happening on campus right now. In fact, there are five happening as this is being written: the bridge over Lancaster, Bartley, Mendel Field, the Pavilion and the residential housing. 
Navigating campus would be a challenge for even the most knowledgeable student on the University's grounds. Several minutes are tacked on to a student's route crossing campus, causing inconveniences when trying to make it to class in a timely manner. For those who live in residence halls that back up to construction sites, a swifter execution of one given project would lessen the number of mornings waking up an hour earlier than wanted due to the sounds of heavy machinery. 
Current students certainly feel the presence, as do prospective students. Although people love to see a campus putting money into improvements, it is difficult to get a sense of the campus at all when five locations are under renovations. Tours are cut short and do not get to experience the entirety of campus. Shoutout to the students farthest from being prospective students: seniors. Two integral pieces of the Villanova experience are taken away from their senior experience: graduation pictures in front of the church and basketball season in the Pavilion. 
We value construction and the advancement of the University's campus as much as anyone. We know how important construction is to our school's growth and progress. The problem lies in the wave this construction has drowned us in, the bulldozer to our left and dirt pile to our right no matter the path we try to take as students. Any one of these projects could have been completed faster if all the effort was focused on one at a time, instead of tearing up the beautiful campus we know all at once before we could even get a final church pic. We look forward to the end result of these many projects but cannot help but sympathize with the many students who endured this construction all at once and may only be left with dirt in their memories.