Jay Wright Inducted Into Basketball Hall of Fame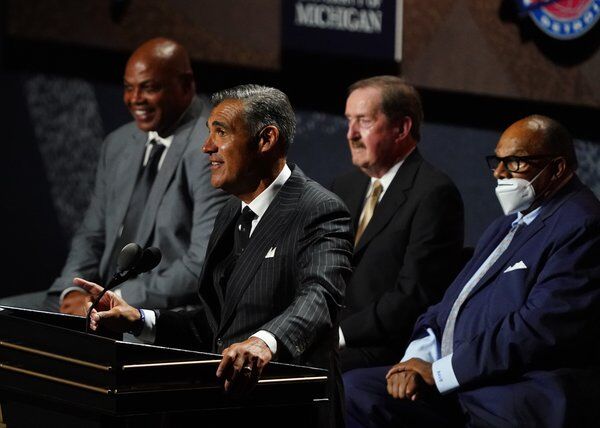 Being inducted into the Naismith Memorial Basketball Hall of Fame is something fewer than 500 people can put on their résumé. On Sept. 11, 2021, Villanova men's basketball head coach Jay Wright became one of those people.
"I'm humbled and honored to be a part of this prestigious class," Wright said during his enshrinement speech in Springfield, MA. "Congratulations to my Hall of Fame classmates, especially our (the Big East) great commissioner Val Ackerman."
Wright began his legendary coaching career as an assistant at the University of Rochester in 1984 and spent the 1986-87 season at Drexel before joining Villanova's staff to coach under the late-great Rollie Massimino. Wright spent five years at Villanova and followed Massimino, who led Villanova to its first national championship in 1985, to UNLV from 1992-94. Massimino served as a mentor to Wright, and it is no secret that the tutelage from Massimino helped get Wright to where he is today.
"Billy (Cunningham) and Chuck (Daly) are the only two people Coach Massimino would listen to, besides Mrs. Massimino," Wright said. "Therefore I listen to all four of them, including Mrs. Massimino. It's simple to say, if not for Coach Massimino, I would not be standing here tonight (claps)."
In 1994, Wright headed back to the East Coast where he got his first head coaching gig at Hofstra University in New York. Wright spent seven seasons at Hofstra, leading the Flying Dutchmen to the NCAA Tournament in his final two years there. Following the 2001 season, the Wildcats and Steve Lappas parted ways, and on March 27, 2001, Wright was named the program's next head coach.
Wright started his career on the Main Line strong, advancing to the NCAA Tournament nearly every year and making some deep runs, including going to the Final Four in 2009. But for Wright's first 14 seasons, he was unable to get over the hump. Then, in a matter of three years, there were no more questions about if Wright could win the big game or if he is the man for the moment. His two national championships — coming 2016 and 2018 — put an end to that.
Wright's two rings aren't his only accolades on a national scale. The Hall of Famer is a two-time Naismith College Coach of the Year (2006 and 2016), NABC Coach of the Year (2006), John R. Wooden Legends of Coaching Award recipient (2018) and AP Coach of the Decade (2010s). Wright also won a gold medal as an assistant coach for team USA in the 2020 Olympics. Wright and the Wildcats have also won a thing or two in the Big East during his tenure. The 'Cats are eight-time regular season champions (2006, 2014-17 and 2019-21), four-time tournament champions (2015, 2017-19) and Wright is a six-time coach of the year (2006, 2009, 2014-16, 2019), the most in Big East history.
"It has been such a privilege to work with Jay over the past eight years," Big East commissioner and 2021 Hall of Fame inductee Ackerman said. "I can tell you that the new Big East would not be where it is today without him and Villanova leading the way."
During Wright's speech, the all-time leader in wins at Villanova (486) thanked many people who helped him get to where he is today, including his wife, kids, parents, coaches, players and God. As he walked up to give his speech, and while he spoke to the crowd on hand, Wright was accompanied by Charles Barkley, Herb Magee and George Raveling, a Villanova class of 1960 graduate.
"George Raveling represents Villanova basketball, to me," Wright said. "His life is an example of everything a Villanova basketball player aspires to become. A great player, a lifetime leader, a man who lives for others. Coach Rav, you've been a role model to all of us at Villanova."
Over the years, Wright coached a plethora of players, with many different coaches by his side, all of whom he feels should share this honor with him.
"To our coaches, I hope you all feel this is your accomplishment too… To our players, guys, you made this happen," he said. "Thank you for allowing us to coach you."
Wright bleeds blue and white, and he knows that this great achievement wouldn't be possible without everybody in the Villanova community, from the players to the faculty.
"We have so many great Villanovans here tonight, board members, donors, faculty and friends; thank you all for showing up," Wright said. "Let's all continue to work together to ensure Villanova basketball remains worthy of this honor bestowed on all of us tonight."
He added,
"The greatest honor of my career has been being the head coach of Villanova."