Football wraps up 5-6 season with 28-7 win over Delaware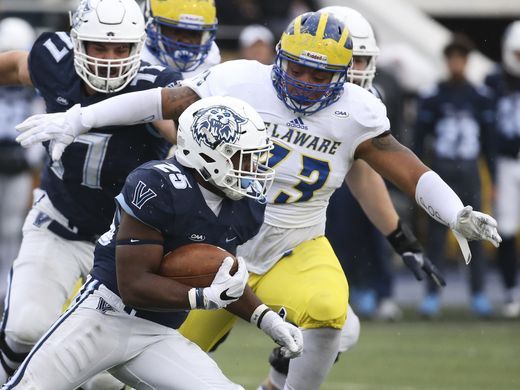 The Wildcats ended their season on Nov. 18 with a victory over rival Delaware 28-7. For the sixth straight season, the Wildcats were able to take home the Battle of the Blue trophy, dominating with a performance by their seniors.
Senior receiver Taurus Phillips had two touchdowns and linebackers Ed Shockley and Jeff Steeb led the team with 23 total tackles as they knocked the Blue Hens out of playoff contention. Steeb had 13 tackles and a pick six, and Shockley had 10 tackles and became the first Wildcat since 2014 to end his career with over 100 tackles.
The Wildcats were able to establish the bread and butter of their offense, as junior running back Aaron Forbes racked up 146 of the 261 rushing yards at Villanova Stadium.
The win over Delaware completed memorable four-year careers for Shockley and two other Wildcat seniors. In addition to passing the century mark in tackles, Shockley was named to the CAA Football All-Conference first team, sitting second and third in the CAA with total tackles and solo tackles respectively. As a four year starter, the Millville native only missed one game in his four years on the Main Line. He completed his career with 256 total tackles, 28.5 for loss and 7.5 sacks.
Punter John Hitchen, one of the top punters in the nation this year, was also named to the CAA First Team as well. He played in all 49 games over his four year career, with 208 punts for 8,574 yards, averaging 41.2 yards per punt, 52 of them landing inside the 20 yard line.
One of the key defensive players all year for the Wildcats, defensive back Malik Reaves, was selected to the CAA All Conference Second team. He had two interceptions in 2017, including one that sealed the victory against Delaware. He Jacksonville, FL native ranked fourth on the Wildcats with 58 total tackles, along with two pass break-ups and a forced fumble.
Despite Wildcat individual success this season, they had high hopes to contend for a national championship after returning nine starters from offense and seven on defense last year. This season did not turn out the way they hoped, finishing with a 5-6.
The Wildcats were plagued with multiple season-ending injuries early in the season that eliminated them from playoff contention. It started with Changa Hodge in week two, after having over 100 receiving yards against Temple. Pre-season CAA Defensive Player of the Year Rob "Quaddy" Rolle tore his ACL in week four against Albany. That followed with lower body injuries to starting quarterback Zach Bednarczyk, running back Matt Gudzak and tight end Ryan Bell. If the Wildcats had their guy who passed for 2,158 yards and 19 touchdowns last year, one of his main running backs, his favorite target this season who had 302 yards and three touchdowns in only four games this season and was considered one of the best in the CAA coming into this year and a ball-hawking safety that led the third best defense in the country last year, the potential the Wildcats had this season would have been a game-changer.