Villanova Solves Butler Riddle in Hard-Fought Victory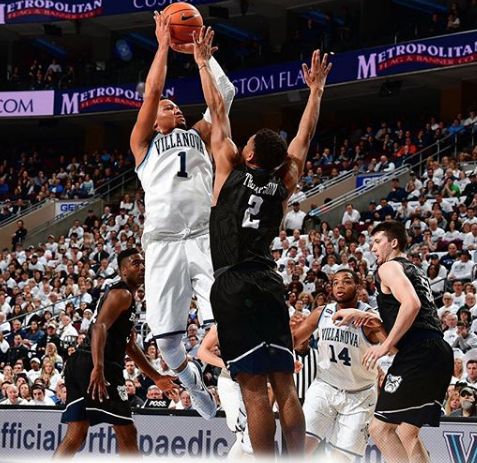 The Villanova Wildcats surged to a 86-75 victory over the Butler Bulldogs at a sold-out Wells Fargo Center on Saturday behind a career high 30 points from Donte DiVincenzo. With the victory, the Wildcats not only avoided dropping back to back games for the first time since 2013, they also ended what had become a three-game losing streak against the Butler.  
"It's not something we think about," said DiVincenzo, referring to Villanova's five year run without consecutive losses. "But the loss [to St. John's] is just a reminder that we have to step up and play Villanova basketball."
The Wildcats were once again without two of their usual starters, with Phil Booth still recovering from a broken hand and Eric Paschall dealing with a concussion. Donte DiVincenzo once again started in Booth's place, while Collin Gillespie made his first ever start for Villanova in place of Paschall. The injuries forced Jay Wright's 'Cats to adjust their game plan, as they played some zone along with their typical man to man defense. 
"We are a little bit in survival mode," Wright said. "It's not fair to expect Jermaine and Collin and Dhamir to play at the same level as the older guys. You just have to keep things simple."
Butler started the game looking like the team that had knocked off the Wildcats earlier this season on Dec. 30, as they made their first four shots of the game, including two three-pointers, to jump out to an early lead. Butler standout, Kelan Martin, tallied 11 of his 30 points in the game's first five and a half minutes. After nearly eight minutes of play, Butler was shooting a scorching 75% from the field, and led 23-12.
Villanova remained poised, however, and clawed their way back into the game by leaning on their own star, point guard Jalen Brunson. Brunson scored 13 of his 27 total points in the first half to keep the 'Cats within arm's length. As the clock wound down, freshman Collin Gillespie hit a huge three from the left wing to cut the deficit to 38-35 at the half after the 'Cats were down as many as 13.
The Wildcats came out in the second half on a mission, tying up the game for the first time less than a minute in on a DiVincenzo three-pointer. Just a minute later, Villanova finally pulled in front on a pair of free throws from DiVincenzo. This, however, was just the beginning for the sophomore from Delaware, as he blitzed the Bulldogs offensively throughout the entirety of the second half, scoring 20 of the team's 51 points.
Although DiVincenzo's offense was certainly impressive, it was his defense that Coach Wright was most pleased with.
"Donte probably played his best defensive game of the year," said Wright. "He kept people in front of him and he guarded everybody."
Villanova was seemingly taking control after a five-minute field goal drought by Butler early in the second half allowed them to open up a nine-point lead with 14:53 remaining. The Bulldogs fought back fiercely however, as back-to-back Martin threes brought the deficit back to five with 9:08 to go. Martin was certainly the hot hand for the Bulldogs from deep, as he tallied a game high eight three pointers on 12 attempts.
Even with Martin's barrage of threes, Villanova refused to relinquish the lead, rallying behind the sound defense and free throw shooting of their two stars, Brunson and Mikal Bridges, to stay out in front.
Butler did, however, make one final push, as a lay-up by Kamar Baldwin brought the Villanova lead to 75-71 with 1:54 remaining in the game. Despite their best comeback efforts, Butler would be unable to overtake the Wildcats as sound free throw shooting down the stretch clinched the victory for Villanova. With 34 seconds to play, the exclamation point was added by a thunderous dunk from Mikal Bridges, bringing the crowd to its feet.
With the win, Villanova moves to 23-2 overall and 10-2 in the Big East. They will return to the court on Wednesday when the travel to Rhode Island to face Providence.