Villanova Football Welcomes New Recruiting Class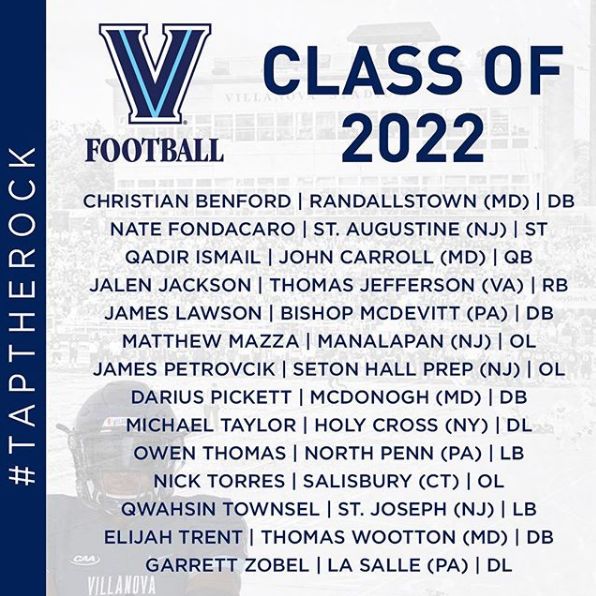 National Signing Day was a big day for the Villanova Wildcat football team, as three new recruits signed letters of intent. This brings the Wildcats' total haul for the recruiting period to a total of 15 players, as 12 players joined the program during the December early signing period. The three new signees who joined the team last Wednesday are wide receiver Dez Boykin, defensive back James Lawson and offensive lineman Nick Torres. 
Boykin is an in-state recruit from Whitehall High School, only an hour away from Villanova. With 3,017 yards in his high school career, he is ranked second all-time in PIAA District XI for receiving yards. During his career, Boykin earned a first team all-state selection along with first team all-area and first team all-conference honors. 
Lawson is another Pennsylvania native, having attended Bishop McDevitt High School in Harrisburg. Lawson was the Keystone Division Defensive MVP and a first team all-league selection. He finished his senior season with 75 tackles and two interceptions and was ranked a top 50 prospect in Pennsylvania. 
Torres is a 6 foot, 5 inch tall offensive lineman who attended Salisbury School in Connecticut and was chosen to play in the New York City Senior All-Star Game. He was a first team all-league honoree and a four-time Offensive Player of the Week selection, and received the league's Most Improved Award.
These new players will join a Wildcats team which finished 5-6 in head coach Mark Ferrante's first year at the helm. Injuries plagued the team all year long, with star quarterback Zach Bednarczyk and starting running back Matt Gudzak among many players who went down with season-ending injuries. 2017 was the Wildcats' first losing season since 2011, and only their 4th losing season since the year 2000. 
However, on the bright side, the Wildcats also return many key players on both sides of the ball. These returnees include Bednarczyk, who has returned for his fifth year of eligibility to be the Wildcats' presumed starting quarterback. 
Head coach Mark Ferrante stated that the team hopes to redshirt many of the new players, as the team managed to return a solid nucleus of players for this season. However, he also warned that things won't always go according to plan, such as last year, when the team only redshirted one freshman. He hopes that this year's batch of freshmen can be sat until they are ready, rather than having to play due to necessity.