Final Four Preview: Kansas Jayhawks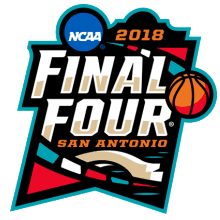 Opponent: Kansas Jayhawks (31-7)
Game Time: Saturday, March 31, 8:49 p.m.
Channel: TBS
If you like Offense…
Both the Wildcats and the Jayhawks can put the ball through the hoop. According to KenPom, Villanova ranks best in the country in adjusted offensive efficiency, while Kansas comes in at number five. Both teams average over 80 points per game, with the Wildcats leading Division I at 86.6, and the Jayhawks also placing in the top 30 with an average of 81.4. These offenses are elite and you are likely to see a relatively high scoring affair come Saturday. On the season, the 'Cats have six players averaging in double figures, while the Big 12 champs boast five of their own.
Small Ball
Sure Kansas has 7'0" center, Udoka Azubuike, on their side, and yes, 'Nova does feature the 6'9", Big East Freshman of the Year, Omari Spellman, but let's face it, both these teams rely on their guards. As perimeter oriented teams, Villanova and Kansas shoot a lot of threes. The Wildcats rank third in the country in three-point attempts, with 1091 on the season, while the Jayhawks rank 11th with 953.
The matchup at point guard is sure to be at the center of everyone's attention, with the 'Cats' Jalen Brunson squaring off against Devonte' Graham of Kansas in a battle between two AP All-American first team members. Both players lead their respective teams in points per game, with Brunson coming in at 19.2 and Graham at 17.2.
"When you look at the point guards we have faced this postseason, he [Graham] plays at a higher level," Villanova head coach, Jay Wright, said. "We have seen him grow during his time at Kansas and he has size that Jalen Brunson doesn't have but has the same aggressiveness to take over a game and he gets people shots. They both make the right decisions all the time."
The strong guard play does not stop with these two, however. Jayhawk senior, Sviatoslav Mykhailiuk, shoots the three-ball at an incredibly efficient 44.7%, and sophomore Malik Newman is coming off a career high 32 points in the Elite Eight against Duke. On the Villanova side of things, projected lottery pick, Mikal Bridges, has enjoyed a break out season, and sophomore, Donte DiVincenzo, has proved invaluable as the team's "sixth man".
"Playing him [DiVincenzo] is high risk, high reward," Wright said. "He is learning and he's the kind of player that is so dynamic that we feel we have to let him be aggressive. Donte has grown so much this year that the rewards of playing him are so high."
Defense Wins Championships?
With both team's featuring such potent offenses, the team that can get string together stops on defense is likely to emerge victorious.
Although, as Jay Wright will tell you, Villanova struggled on defense throughout much of the regular season, the Wildcats have seemingly figured things out as of late, giving up just 64 points per game during the NCAA Tournament.
"We have been working on our defense all year but then guys got hurt and the rotation was a little shorter," junior guard, Phil Booth said. "Over the last month or so we all got healthy and got the full rotation back. We have a good rotation going now, and all year everybody has bought in to defense and we knew that was the biggest thing for us to work on."
This improvement on defense has vaulted the Wildcats to 13th in KenPom's adjusted defensive efficiency, well ahead of the Jayhawks, who rank 41st. This discrepancy may indicate a slight advantage for 'Nova come Saturday, as they look to make another appearance in the NCAA Championship.
There's More Where That Came From
Earlier this year, Villanova and Kansas reached an agreement to play a home and home series over the next two seasons. First, the Wildcats will stop by Allen Field House next season, followed by the Jayhawks visiting the Wells Fargo Center during their 2019-2020 campaign. Given this year's matchup in the Final Four, fans of these two programs now get to watch the schools go at it three years in a row.