Top 10 Villanova Sports Moments of the Year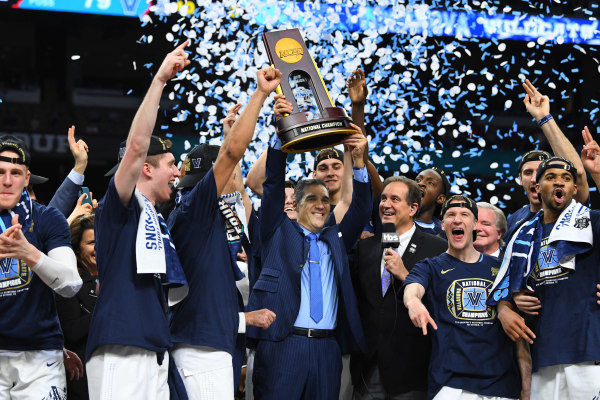 1. Men's Basketball defeats Michigan to win the program's third National Championship and its second in the last three years. 
2. Women's Swimming and Diving captures fifth straight Big East Championship. 
3. Siofra Cleirigh Buttner places 2nd in the 800M at the NCAA Championships, breaking her own indoor school record with a time of 2:02.46.
4. Men's Track and Field wins their fourth Big East Championship in the last five years.  
5. Men's Lacrosse opens the season with back-to-back overtime wins over ranked opponents. The team defeated No. 12 Penn State, 17-16, and No. 5 Yale, 10-9. 
6. Sophomore Michael Perra won both the 1-meter and 3-meter diving titles at the Big East Championships. He was the first Villanova diver to win the 1-meter in program history.  
7. On Nov. 17, 2017 the Women's Volleyball team swept No. 13 Creighton 3-0 at Jake Nevin Fieldhouse on their way to earning a spot in the Big East Tournament. 
8. The football team defeats rival Delaware, 28-0, in the last game of the season. It marks the eighth straight year the team has captured the Battle of the Blue trophy. 
9. Jannah Tucker hits a three-quarter court shot against Providence at the first quarter buzzer. The women won the game by a score of 70-43. 
10. On April 15, 2018, Villanova captured the inaugural title in the Big East eSports Championship.