One More Year! A Plea to Brunson and Bridges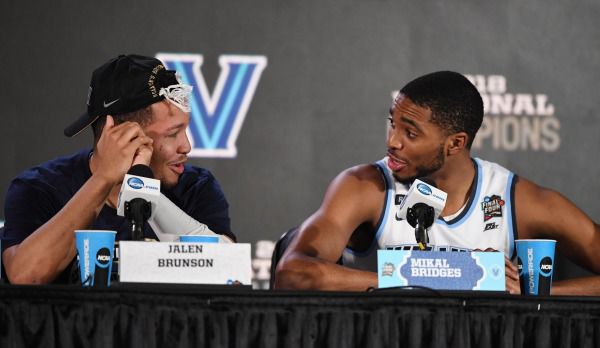 Dear Mikal Bridges and Jalen Brunson,
 Why? How could you?  Do you guys want to leave us like this? I mean, don't get me wrong I can't wait to buy Brunson and Bridges NBA jerseys and bandwagon whatever team you guys decide on but, why? At this point I feel like it's a "it's not you it's me" situation. Both of you have such strong relationships with Villanova. I thought what we had was special. We care about each other, we support each other, we come to all your games and now you want to break up? You can't deny our chemistry. After three years on this team you decide to call it quits on us, just like that?
Mikal, before you joined the team I didn't know a person could have such long arms but, in all seriousness, who else is going to be able to drain threes that easily. You play the game so effortlessly. The way you are able to fire up our team when we're down, or hype up the crowd when there's a lull, who else can fill your shoes? We need you to teach all these rookies how to play as intelligently as you do. Don't leave. Don't you want to play one more season alongside Phil Booth, Donte DiVincenzo, Omari Spellman and Eric Paschall. Villanova basketball isn't Villanova basketball without you.
Jalen, you have been our fearless leader these past couple seasons. We've seen you grow as a player and we've seen you dominate many a game. Don't leave us like this. We need you next year. Imagine how unstoppable the squad will be next year. What am I supposed to do with my Brunson jersey now? There's a void in my heart that no other player can fill. No one has impacted the team like you have. No one can play the game like you. It's like having a coach on the court. The team needs you. We need you. This can be the season you can step back and reap the benefits of your past three years but also continue to inspire our team in your final year. Now that you've completed your degree, you can fully focus on basketball and cultivate our new players. We need you, Jalen. Please don't leave us like this.
Jalen and Mikal, no matter what you both choose, you will have the support of the entire Nova Nation behind you. We are so proud to have been on this wild journey with you guys. You can't get rid of us that easy. We're like that crazy ex that still hits you up on every social media and texts you on your birthday, but you don't want to break our hearts now do you? I'm not going to lie. I am feeling pretty good after that national championship win, but if you guys leave my jubilant mood is going to disappear. Don't do me like that. You both have experienced two Big East championships and two national championships. Don't you want a third? Three is the magic number, right? Three rings would be nice. Another championship would be nice. I'm in for a trip to Minneapolis. The NBA isn't even that cool. College basketball is so much more exciting. In one final statement I'd like to say that I am no longer trying to guilt you two into staying with us for one more year. I am begging. Please don't leave. We love you. We'll do anything. We need you.