'Cats Drop Second Straight, Fall to Maine 13-10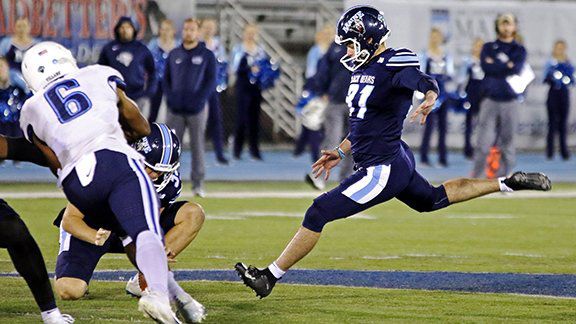 The Villanova Wildcats lost to the Maine Black Bears, 13-10, on Saturday, falling to a record of 3-3 on the season. 
Starting quarterback Zach Bednarczyk did not play in the game due to injury, and his presence was sorely missed. The offense struggled to move the ball, as the team usually relies on Bednarczyk to make plays. Backup quarterback Jack Schetelich struggled throughout the game, throwing for just 93 yards, including two interceptions and zero touchdowns. The 6'1" sophomore was also sacked six times throughout the contest. The troubled Wildcats offense only converted on three of 13 third-down opportunities. 
Running back Aaron Forbes managed to score the Cats' only touchdown of the game in the third quarter on a two-yard run. The team's leading rusher was only given 12 carries in the game, a surprising decision given that he averaged four yards per carry.
Wildcats kicker Drew Kresge continued to struggle making just 1/2 field goals throughout the game and missing on a crucial 46-yard attempt. 
Despite Villanova's abysmal offensive performance, they kept the game close with a strong defensive outing. The Wildcats' defensive unit carried the team throughout the game, only allowing three points in the first half, and forcing Maine quarterback Isaiah Robinson to throw two interceptions and record just 146 passing yards. Robinson was also sacked twice in the game.
The Black Bears were able to win the game after driving up the field with under two minutes remaining in the fourth quarter. Robinson completed a 20-yard pass to wide receiver Jaquan Blair to bring them to the Villanova 44-yard line and get a first down with a minute remaining in the game. As the clock winded down, Robinson completed another pass to Micah Wright, gaining them eight yards while bringing them to the Villanova 36-yard line, which allowed them to be in field goal range. With just three seconds left in the game, Maine called a timeout. Maine's kicker, Kenny Doak, nailed an astonishing 52-yard field goal, leaving no time on the clock and notching the victory for the home team.
'Nova will match up next week against James Madison at home, where the team will be put to the test to see if it can fix its offensive struggles against one of the top teams in the FCS.