Takeaways from Today's Blue/White Scrimmage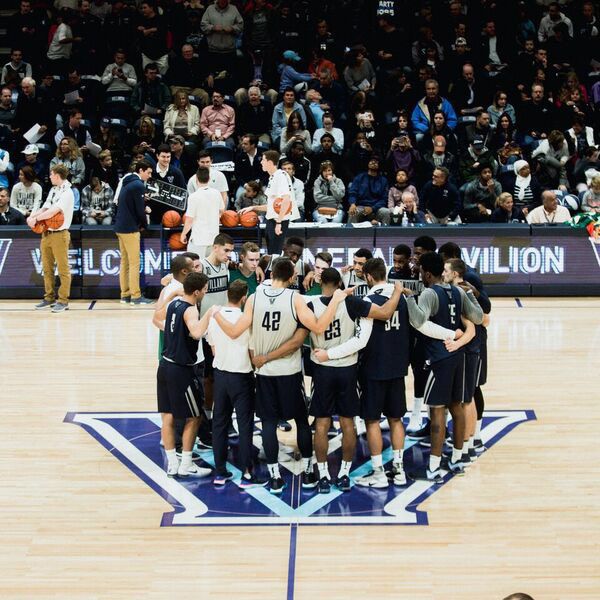 The banners have been raised. The rings have been distributed. The choreographed dance has been performed. The newly renovated Finneran Pavilion is back open for business following Hoops Mania. With all the fanfare from last year out of the way, it is now time to focus on the 2018-2019 Villanova Basketball team. This means the Wildcats held their annual Blue/White scrimmage, which is an open practice where the Nova Nation can see their Cats for the first time in a serious setting. Here are some takeaways from the day's action.
Everyone is Working Out the Kinks
Practice makes perfect, right? Of course, but that does not mean there are no rough edges that need to be smoothed out before the season opener against Morgan State on November 6th. Before five on five drills began, Assistant Coach Kyle Neptune chewed out a squad of five guys which included freshmen Jahvon Quinerly, Saddiq Bey, and Cole Swider while running a simple out of bounds stack play. In addition, there were so many turnovers that not even Miami Football's turnover chain could keep up. These miscues will get worked out over the next few weeks before the real season begins in three weeks. 
Jay Experiments with Different Lineups
One of the top questions on every Wildcat fan's mind is: who will be the starting 5 to open the season? Coach Jay Wright did not make it clear with the guys on the court, but he did use a few different intriguing combinations. The first five for team White were: Jahvon Quinerly, Jermaine Samuels, Cole Swider, Dhamir Cosby-Roundtree, and Dylan Painter. Team Blue fielded a squad of Collin Gillespie, Phil Booth, Joe Cremo, Saddiq Bey, and Eric Paschall. Do not be surprised to see some variation of team Blue with a few tweaks to be announced as the starting five when the season starts.
Position Battle at Point Guard Takes Center Stage
Mike Nardi, Kyle Lowry, Scottie Reynolds, Ryan Arcidiacono, Jalen Brunson. Will Collin Gillespie or Jahvon Quinerly take the reigns as the next great starting point guard for Coach Wright? Only time will tell, but this was easily the matchup of the day. Both of them performed exceptionally well with Quinerly showing off his ball handling and finishing ability that made him a household name in Dyckman Park over the summer. On the other hand, Gillespie was able to force a few turnovers on Quinerly and also block a couple of the freshman's layup attempts, while hitting a few threes to his credit. Keep an eye out for how this battle evolves over the season. 
Seniors Setting the Tone
As the only returning starters from the 2017-18 National Championship squad, captains Phil Booth and Eric Paschall will be relied upon for leadership both on and off the court. Booth showed some shades of his 2016 National Championship self by hitting threes, midrange jump shots, and floaters in the lane off the bounce. Paschall made hustle plays and threes reminiscent of last April against Kansas in the Final Four. His draft stock will continue to rise as the comparisons to Denver Nuggets forward Paul Millsap keep coming in. These two will have to up their production from last year to help defend their crown.