Wright named USA Basketball Assistant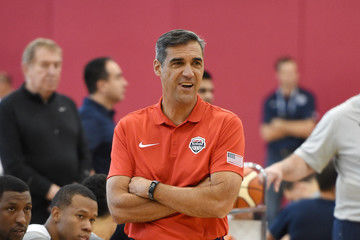 On Thursday, Jay Wright, head coach of the Villanova men's basketball team, was announced as one of the three assistant coaches of the 2019-2020 USA Basketball Men's National Team.
Wright joins Golden State Warriors head coach Steve Kerr and Indiana Pacers head coach Nate McMillan to round out the assistant coaching staff for the national team's next season. The three will coach alongside Gregg Popovich, current head coach of the USA National Team and the San Antonio Spurs.
"It is a great honor to represent our country and to represent USA Basketball," Wright said of his new position. "It's also a privilege to work under [Popovich] and alongside Steve [Kerr] and Nate [McMillan]. I have great respect for all three of them. This will be the opportunity of a lifetime."
Although the only college coach of the group, Wright is more than qualified to be a part of this staff. He brings 17 years of coaching experience to the table, along with 13 NCAA tournament appearances, three Final Four appearances, two Naismith National Coach of the Year awards, and, of course, two NCAA National Championships. Coach Wright has also led the USA to a 2005 World University Games gold medal and held an assistant coaching position during the 2018 USA National Team mini-camp.
Wright will serve as an assistant to the USA National Team, assuming they qualify, in two large international competitions – the 2019 FIBA World Cup and 2020 Summer Olympic Games – in hopes of a second and third straight gold medal in each tournament, respectively.
For those wondering what kind of concern this poses for Villanova's program, worry not. Wright estimated he would only spend 30 days away from the Wildcats' program per year and assured reporters that the program's recruiting process would not be negatively affected. "We've still got to get the same kind of guys and we've been finding them anyway. It certainly won't hurt, I'll tell you that," Wright said.
This esteemed position expands Jay Wright's already impressive coaching résumé and gives him a fantastic learning opportunity with some of the best coaches in the game, which will positively affect his coaching of the Wildcats in the future.