Wildcats' Woes Continue at Xavier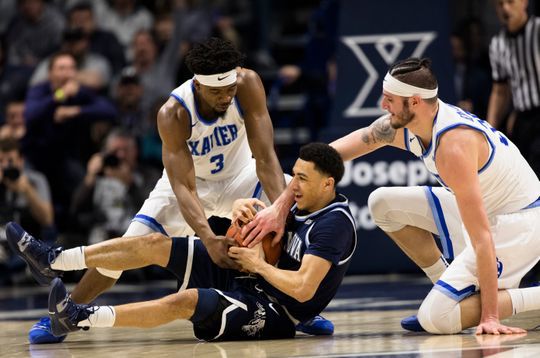 The Musketeers handed the Cats' their third consecutive loss on Sunday, beating Jay Wright's team by a score of 66-54 at the Cintas Center. This is the first time since January of 2013 that the Wildcats have lost three straight games.
The issue remained the same for Villanova in Cincinnati — their inability to make shots. Xavier, winning their fourth straight game, went on a 17-0 run midway through the second half which proved too much to overcome for Jay Wright's squad. Marshall had seven of these 17 points which gave Xavier their first lead of the game. It was a lead that they would not surrender.
Entering the break, the Cats' held on to a three point lead. However, it was not enough to calm the terrific efforts from Xavier led by Naji Marshall (17 points) and Paul Scruggs (14 points).
While Xavier's top two guys excelled in the second half as the Cats' top two in Phil Booth (14 points, 2/9 3pt) and Eric Paschall (17 points, 50% fg) could not get anything going offensively. An extreme offensive stall accounted for nine minutes without a single point scored for VU. Villanova shot just 34% from the field and 28% from the arc, their 3rd straight game shooting under 40% from the field.
With the loss, the Wildcats remain in second place in the Big East standings with a conference record of 11-4. They get a matchup with the first place Golden Eagles of Marquette on Wednesday at 9 p.m. back home in the Finneran Pavilion.