2018/2019 Women's Basketball Season in Review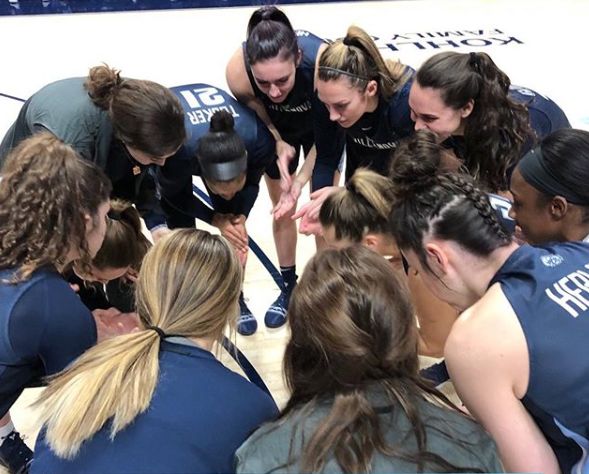 After making it to the second round of the NCAA Tournament in 2018, Villanova's women's basketball team came into the 2018-19 campaign with high expectations to take the next step forward towards making a deeper run in March. The season was filled with ups and downs, and now the length of the season is once again hanging in the balance.
The Wildcats started out hot with an 8-2 record in out-of-conference play to open the season. Once the Big East season started, it was a tale of inconsistency. Every time 'Nova would build up some sort of momentum in terms of a small winning streak, it would get sidetracked by either a blowout loss to a better Big East opponent or a string of defeats in a row. 
The Big East Tournament was the opportunity that the 'Cats needed in order to have a chance at making it to the NCAA Tournament again, but its run was stopped in its tracks after a loss to Georgetown in the Quarterfinals. Ultimately, Villanova finished with an 18-12 record overall and 9-9 in Big East games, which was good enough to finish tied for fourth in the conference. 
While the team did not accomplish as much as it would have liked in the regular season, there were more than a few individual accomplishments and awards that particular players earned. The most notable of said accomplishments was senior guard Adrianna Hahn breaking former Wildcat Trish Juhline's record for most three pointers made in a single career with 313 and counting. 
In addition, the Big East Conference honored a few 'Cats for their work on the court. Junior forward Mary Gedaka was voted by Big East coaches to be a Second Team All-Conference selection after averaging 14.6 points and 6.8 rebounds per game. 
Redshirt freshman Emily Esposito was selected as a member of the Big East All-Freshman Team, averaging 4.1 points and 1.9 rebounds per game off the bench. Senior forward Jannah Tucker was a selected as a co-winner for the Big East Sportsmanship Award for her production on the court, as well as her community work off of the court. Tucker averaged 9.7 points and 2.9 rebound per contest and engaged in volunteering both on and off Villanova's campus while not playing.
While the 'Cats did not receive an NCAA Tournament bid for this season, it will be able to extend its season, playing in the first round of the NIT against Old Dominion on Friday, March 22 at 7 p.m.