Villanova Alum and Fox News Correspondent Peter Doocy Shines Light on 2020 Election for Students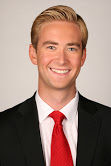 Emily Cox Co-News Editor
April 30, 2019
On April 15, Peter Doocy had the opportunity to report live from Senator Bernie Sanders' town hall event in Bethlehem as a correspondent for Fox News. Before the night of the event, Doocy reached out to his alma mater and took time to speak with The Villanovan to give insight into the upcoming election. 
A proud graduate of the University, Doocy jump-started his career in journalism after attending "Hardball College Tour: Villanova" with Republican Presidential Candidate Senator John McCain in 2008. He reflected on the moment. "He was the first person to give me the opportunity to ask a question in a political debate," Doocy said.
An MSNBC producer went around the Pavilion that night, asking if students had any questions they wanted to ask the Senator. "That morning, earlier on the front page of the newspaper there in Philadelphia was a picture of Hilary Clinton with a whiskey shot, and she was toasting with some voters. I thought it was a funny photo…So I thought it would be nice to ask Senator McCain if he wanted to go out for a shot with me," Doocy said. 
Doocy asked McCain this question live on television, and McCain laughed. "He paused and had this great reaction. He collected himself, and he eventually came around to saying that it was one of the two best questions he had heard in the entire campaign. As a college junior, this was so cool to hear," Doocy added. 
After graduating from the University in 2009 with a B.A. in Political Science, Doocy began in New York City as a general assignment reporter for Fox News Channel. Throughout his career, he covered a variety of stories, including Hurricane Sandy, the 2008 and 2012 presidential elections, the Sandy Hook Elementary School shooting and obtained the exclusive television interview with former Navy SEAL Robert O'Neil. 
For the upcoming presidential election in 2020, Doocy has been tasked with following the campaign trail for the entire election season. "Fox sends me, and I figure out what's going on," Doocy commented.     In attending events such as this particular town hall with Senator Sanders, Doocy goes to the cities where the campaign events are held, talks to people there, and reports back to Fox, always attempting to find the interesting pitch to the story. "I get to speak to much larger national conversation," Doocy reflected, when speaking to his role on the campaign trail.
Senator Sanders is one of the contenders Doocy mentioned to keep an eye on this campaign season. Doocy mentioned the incredible traction Sanders has gained in many of the early states so far. "Young and older voters are coming out to see Senator Sanders," Doocy said. He spoke to this in reference to the possible frustration with the DNC that many voters had when Hilary Clinton was selected as the 2016 Presidential Candidate, and voters are seeing this as their second chance to support Sanders. Doocy laughed, adding, "Well, they already have all the gear!" 
He also believes many candidates are following Sanders in terms of policy and platform, agreeing that Sanders has paved a path for many of the Democratic candidates to follow.  "Sanders is a self-described Democratic Socialist who wants to come on Fox," Doocy mentioned when adding why he thinks Senator Sanders is already leading the way in terms of the campaign trail.
Following this discussion, Doocy turned his attention to what students should keep an eye on in this upcoming election. He emphasized, "The number one issue should be jobs." Doocy explained that this is the one thing University students especially want after graduating, and it's the one thing students should be most focused on in terms of following platform and policy. The creation of jobs, as well as tax plans and healthcare that fall under this category, should especially be watched closely by students in college. Doocy added that a strong job market is an integral part of a strong economy. 
"Social media only scratches the surface of the issues," Doocy mentioned when speaking on the topic of what is most important for college kids to keep in mind when following the election. He advocated for looking deeper into the topics and candidate platforms, instead of sticking to the usual Twitter, Instagram and Facebook as a source of information. The state of Pennsylvania will also play a crucial role in the election, speaking about the complexity of voters here as well as the "depth of the state."
Doocy gladly spoke to The Villanovan, excited that he could help inform students of the school he attended just a decade ago. As students here become involved with the race in 2020, Doocy was in the same position in 2008.