Media Relations' Mike Sheridan Wins Katha Quinn Award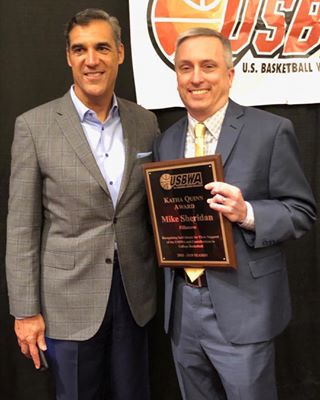 Earlier this year at the NCAA Men's Basketball Final Four, Villanova Assistant Athletic Director for Communications, Mike Sheridan, was announced as the winner of the Katha Quinn Award by the United States Basketball Writers Association (USBWA). 
The Katha Quinn award is named for the former St. John's University sports information director. The recipient of the award every year is recognized by the USBWA for their work that they do in serving the media.
Sheridan has held more than a few titles since joining Villanova Athletics' staff back in the fall of 1998. When he was first hired, he was the media point of contact for men's basketball. In addition to this role, he also served as the athletic department's Director of Media Relations. Most recently back in 2018, Sheridan was promoted to his current position of Assistant Athletic Director for Communications. Sheridan also works as the media contact for Villanova men's soccer.
"The opportunity to represent Villanova at the US Basketball Writers award luncheon at the Final Four was an incredible honor," Sheridan said when asked about receiving the award. "One benefit of years of experience is that you understand that recognition such as this isn't the work of one person. It's a byproduct of the work of many, from my colleagues on the Communications staff to the student-athletes and coaches who represent us all with such dignity on the national stage."
On top of his work within Villanova's athletic department, he is the co-host of the podcast "Talking Villanova Basketball with Jay Wright." He also serves as a coordinating producer of "Inside Villanova Basketball With Jay Wright." 
While this is a remarkable accomplishment to add to Sheridan's resume, he does not forget to thank those closest to him. "My family and I are forever grateful to Father Peter, (Athletic Director) Mark Jackson, and Jay Wright, who embraced and celebrated this honor in a way that insured it will always remain a precious memory," Sheridan said.