Previewing Villanova's Home Opener vs. Lehigh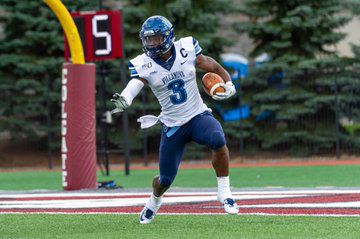 Coming off of an upset win over Colgate, the 24th ranked Villanova Wildcats will look to carry momentum into their home opener against the Lehigh Mountain Hawks this Saturday.
The Mountain Hawks are fresh off of an agonizing 14-13 defeat to Saint Francis in which they allowed the Red Flash to score 14 unanswered points in the second half to blow a 13-0 halftime lead. The game was head coach Tom Gilmore's debut with the Mountain Hawks. Gilmore was hired from the Wake Forest staff, where he served as the linebackers coach for the 2018 season. Gilmore formerly served as head coach at Holy Cross, where he had a 72-81 record from 2004 to 2017.
The Mountain Hawks could only muster 11 rushing yards against Saint Francis and struggled to score all day long. In fact, the one touchdown the Mountain Hawks managed to score was a defensive one on a 56-yard fumble return by senior defensive back Samuel McCloskey. The struggles on offense were largely attributed to third-down playcalling, with the Mountain Hawks converting only 5 of their 17 third-down attempts. The worst of these moments came when the Mountain Hawks failed to punch in a touchdown with a first-and-goal on the 1-yard-line.
Another struggle relates to their dearth in numbers in the trenches. There is only one senior on the offensive line depth chart, and multiple true freshmen are expected to get playing time. In addition, team captain guard Nick Rosen suffered a significant left leg injury against Saint Francis and is not expected to play for multiple weeks.
Meanwhile, Villanova dominated both sides of the ball against the formerly-ranked Colgate Raiders. The Wildcats held the Raiders to only 288 offensive yards and sacked the quarterback four times. On the offensive side of the ball, transfer quarterback Danny Smith scored four touchdowns (three passing and one rushing), and the 'Cats gained 239 yards on the ground.
Villanova has won seven straight against Lehigh, its last loss to the Mountain Hawks coming in 2006. That 2006 win came in former head coach Andy Coen's first year coaching as well, and the Mountain Hawks were also coming off of a disappointing collapse of a loss.
Villanova certainly looks like the favorite for this game, but the storyline at hand looks to be favoring Lehigh. The Wildcats will look to avoid that storybook ending against the Mountain Hawks on Saturday when they kick-off at 6 p.m. at Villanova Stadium.