New Look, New Feel: Belle Air Terrace 2.0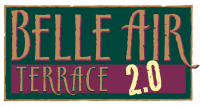 Jacob Artz Staff Writer
October 21, 2020
The Belle Air Terrace is normally the hub for many students at Villanova during the lunch rush hour. Droves of students clamor for chicken fingers and fries, wraps and salads and sit down with friends to socialize and take a break from schoolwork. The terrace is usually a welcoming place, but when students returned to campus, they were met with locked and gated doors.  However, this gave way to a new and innovative Belle Air Terrace, properly called Belle Air Terrace 2.0.
Michael McGuckin, Director of Operations of the Connelly Center at Villanova, discusses how they came to this plan and how they believe the plan is working so far.  A main focal point of the CARITAS commitment is physically distancing to prevent the spread and contraction of COVID-19, and McGuckin knew this would be an issue with the Belle Air Terrace.
"The main issue for us in planning our return in the Connelly Center from a Dining Services perspective was physical distancing for our customers and our staff," he said.  "The physical structure and layout of the kitchen was not going to allow us to physically distance our staff in a safe way.  A larger problem would be queuing our customers in a safe way."
After much thought and consideration, the dawning of Belle Air Terrace 2.0 became a reality.
"The Villanova Room was made available to us as an alternative space to the Belle Air Terrace," McGuckin said.  "It seemed to make a lot of sense because there is more space for our staff to serve and for customers to be served."
As we all know, the set-up is unusual because we are used to seeing career fairs or professional events held in the Villanova Room, but due to the pandemic, everything is different.  Obviously, I have heard students complain, and I have complained about the lack of options in the new edition of the Belle Air Terrace as well, but there are reasons behind this.
"We wanted to serve all the favorites that the Belle Air Terrace is known for," McGuckin said.  "However, this is a challenge because we do not have the same cooking equipment available to us in the Villanova Room.  We considered what food we could serve that can be produced in the Belle Air Kitchen, brought down to the new space and held for service.  We wanted to ensure that the quality of our product held up.  When we planned the menu, we did not know what the volume of business would be.  If the volume were similar to what we experienced pre COVID-19, we needed to have the confidence that we could keep up with producing food in one kitchen and transporting the food to another serving space."  
He made sure to point out the missing best seller in the Connelly arsenal and why the Belle Air Terrace 2.0 cannot sell it at this time.
"We know that students are missing chicken tenders and fries," McGuckin said.  "We did not think we would be able to keep up with the volume and still maintain the quality we are committed to serving."
The Fall 2020 semester is certainly a different and crazy time that no one here will ever forget, and we are all interested to see what the spring semester holds. Hopefully it's a return to normalcy and what we once knew.  Connelly is weighing all of these options, but their plan seems almost set in stone at this juncture.
"Once this semester is over, we will perform a review to evaluate what worked well and what did not," McGuckin stated.  "Part of this review will obviously be the menu.  We will evaluate what should be kept and what we think we can add.  We plan to utilize the Villanova room space again for the spring."  
I am always so impressed on how different departments have stepped up to assist departments that have had to adjust during the pandemic.   
"We would also like to thank our friends in Athletics for lending us the serving equipment that we are using," McGuckin added.  "This equipment would normally be used for concessions in the Finneran Pavilion.  This gesture is greatly appreciated."
All of us would like all the food options and the normalcy back, but for now, I will take the tiny lines and the freedom of eating outside.  I can't wait until we return to normal, but for now, the Belle Air Terrace 2.0 is a great alternative to keep Connelly alive and well.