Villanovans Gather for Virtual #EndSARS Vigil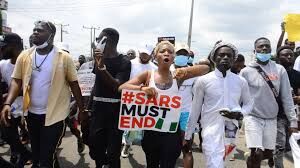 On Nov. 11, the African Caribbean Villanovans (ACV) hosted a virtual vigil honoring the lives lost to Nigerian police brutality in the End SARS movement. Attendees came away with a fuller understanding of the history and contemporary issues surrounding Nigeria's militarized SARS police force, thanks to speakers' testimonies and thought-provoking discussions between participants. 
Members of the ACV organization opened the vigil by stating its purpose: To encourage attendees to listen, learn and discuss both the atrocities of SARS and the movement that sprung up in response and to honor the victims of the Oct. 20 Lekki Massacre and those who face police cruelty every day.
Dr. Chiji Akoma, the vigil's first speaker and chair of the University's Global Interdisciplinary Studies Department, discussed the history of SARS. He emphasized a militaristic culture in policing dating back to the 1990s and discussed the creation of SARS, the Special Anti-Robbery Squad, in 1992. 
"SARS was a special squad given basically a license to kill," Dr. Akoma said. "The more power they were given, the more they became the problem, rather than the solution."
Akoma cited "a culmination of forces" spurring current unrest. Although Nigerians have decried the actions of SARS for decades, he said that today's unstable economic conditions and political corruption, both compounded by COVID-19, have worsened the already-grim circumstances.
He also recounted the Lekki Massacre, a protest where SARS and members of the Nigerian Armed Forces opened fire on End SARS protesters as they peacefully waved flags and sang Nigeria's national anthem. At least 12 people were killed.
Akoma stressed the role of Nigerian youth and young adults in protests and the End SARS movement. SARS officers commonly target young people to extort for money and needlessly brutalize, and these young Nigerians have taken on the mission of change themselves. 
Following Akoma's contextual explanation, senior Chidinma Chioke spoke about her personal experience with SARS and the resulting coalition for change. 
Chioke, who grew up in Lagos, Nigeria, described her older brother's run-in with a SARS unit who stopped and robbed him.
Poignantly, she asked, "If the police are the ones robbing you, who are you supposed to call for help?"
However, Chioke expressed hope toward the efforts of the End SARS movement, noting its mission not only to address issues in the police force but also to make fundamental political change in Nigerian government. She described End SARS as showing a new political consciousness in young people.
"The End SARS movement was the first time in my experience as a young person from Nigeria that I saw this collective effort to hold the government accountable," Chioke said.
Chioke honored those who have lost their lives for the movement, saying that she was disheartened by victims' innocent deaths but remained hopeful for "a better Nigeria and a better future."
Junior Ogochukwu Okpala spoke next, addressing the movement from her perspective as a first-generation Nigerian American. She provided personal stories from her father's experience and gave a passionate testimony, reflecting on Nigerians' suffering at the hands of the police and connecting this issue to police brutality in the U.S. 
"Why is it that those with the most power cause the most pain?" Okpala asked. "Will there ever be a time when Black people, American or not, can go to the authorities and be served and protected?"
Okpala ended with a call for action, encouraging attendees to write letters, sign petitions and get meaningfully involved in helping the End SARS movement. 
"Too much death and too much pain has happened for this to be just another hashtag," she said, adding, "Anything is better than nothing. Silence is violence."
Jermain Bromell, Class of '95, spoke last, reaffirming the need for advocacy and action. He applauded members of the ACV organization for their work.
"Let me commend you all for your voice and your leadership to keep this issue elevated," he said. 
Bromell also shared and reflected on several quotes by Martin Luther King, highlighting the need for patience, resilience and determination in movements for racial justice like Black Lives Matter and End SARS. 
"We wrestle with the challenge of change happening incrementally, but we also need to know the fierce urgency of now," he said.
After speakers' points and testimonies, freshman Chinemerem Chukwu led a moving remembrance of SARS' recent victims. Individuals' names and pictures were displayed on the screen alongside a flickering candle as Chukwu read each name aloud and viewers participated in a reverent moment of silence. 
Ending the vigil, ACV members Bergeline Lysaire and Kimora Cuffy shared resources for viewers to learn more and take action through supporting protests, signing petitions and writing letters to bring awareness and assistance to the End SARS movement.