Opinion: A Call for Greater Gun Control in the US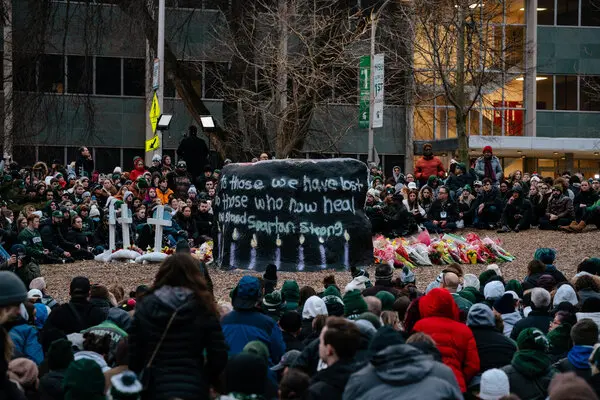 February 13, 2023 marked a mass shooting at Michigan State University and yet another tragic event in American history. Arielle Anderson (19), Brian Fraser (20) and Alexandria Verner (20) were killed at the scene, and the gunman injured several others before taking his own life.
On Wednesday, February 15, thousands of students gathered at "The Rock," a favorite landmark of MSU students, to honor the three lives that had been stolen. For some students, this tragedy is their second school shooting within two years, with the Oxford High School shooting occurring in November of 2021.
AJ Balinski, a Villanova freshman whose hometown is in Michigan, was shocked and saddened by the news.
"A lot of my friends had attended Oxford before going to Michigan State, and I just can't believe it happened again," she said in disbelief.
The Michigan State shoot ing is just the latest example of gun violence in the United States. According to the Gun Violence and crossing the bridge. Students were told to shelter in place until authorities confirmed it was safe.
Archive, there have been 78 gun violence-related incidents in 2023, a number that will only increase. Notably, the number of deaths by gun violence from 2014 to 2020 increased from 12,418 to 19,411 deaths. These staggering numbers clearly indicate that this country has a serious problem regarding guns and gun violence.
Even in the recent Michigan State case, authorities have yet to discover how the gunman obtained his gun. According to CNN, he was previously charged with carrying a concealed weapon, but never went to trial. Another reason why a gun could have been put into the wrong hands is that the state of Michigan has no universal background checks, making it easier to acquire firearms.
Although Balinski was sleeping when the announcement aired, she stated, "I honestly probably would have had an anxiety attack if I was awake. It was a really rough day for me that day because of what happened at home, and I don't know what I would do if I had to handle all that in one day."
Other Villanova students had similar opinions surrounding the case, including sophomore Mariel Persico.
"With so many recent shootings, it was really scary when we got that notification to shelter in place," Persico said. "I just hope everything is resolved soon so we can all feel safe again on campus." worst, probably with influences of the MSU shooting clouding my judgment, but, nonetheless, the fear of a school shooting is very real.
As of February 16, the suspect involved in Villanova's shelter-in-place was found to be 28-year-old Ishmael Isaac Marshall. Although Marshall's swift course through Villanova did not result in any casualties or injuries, it is still so frightening to know that Marshall truly had the capability to harm members of our community.
In light of recent events, it is even more imperative that gun regulations and laws are made more intentionally. Although proponents of the 2nd Amendment defend the right to bear firearms for self-protection and hold historic significance, guns do not hold nearly as much cultural significance in modern-day America.
It is an unfair reality that students fear going to school because of tragic episodes of gun violence. However, that is why it is more important than ever for students to advocate for their beliefs and to mourn those who have suffered so that these tragedies do not occur in the future.