Senior killed in car crash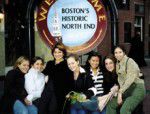 A University senior was among two killed in a one-vehicle crash in the early hours of Saturday morning.
Melissa Harrell, 21, was one of three occupants of a vehicle that crashed into a tree in the 500 block of Conestoga Road shortly after 4:30 a.m. Harrell was pronounced dead at the scene at 5:06 a.m.
The two other occupants were not students at the University. Stewart Young, 25, of Narberth, Pa., was also pronounced dead at the scene.
The driver of the vehicle, Chad Moll, 23, of Ephrata, Pa., was transported to Crozer Chester Medical Center, where he remains comatose and in serious condition.
Police are still investigating the cause of the accident.
Harrell, a communication major, worked at the Tango restaurant in Bryn Mawr and was an active sister of Delta Delta Delta. She was also a member of the dance team in her freshman and sophomore years and spent a semester studying in Ireland during her junior year.
Erin Sykes, one of Harrell's roommates and a friend since freshman year, spoke of a student who was selfless in her devotion to others.
"She was a good listener … one of those people you could always confide in," Sykes said. "She would push you to do something you wouldn't do on your own in a good way. She always encouraged you to take the next step."
Sykes also commented on Harrell's incredible sense of humor, stating, "She always wanted people to be having a good time."
"She was never afraid to say what everyone was thinking," senior Allie Donovan, a friend of Harrell's, said.
"She turned so many trivial moments into memories we'll never forget."
Harrell's positive disposition made an impact on many people.
"She was absolutely the nicest, sweetest person in the world," senior Paul Gladney, a member of Harrell's freshman year Villanova Experience group, said. "This couldn't have happened to a nicer person."
Kathy Byrnes, assistant vice president of Student Life and the facilitator of Harrell's Experience group, also spoke of Harrell's kindness.
"Missy was the kind of person who loved life and having fun," Byrnes said. "She really enjoyed her friends and was very people-oriented. Her friends meant a lot to her."
Byrnes attended the viewing for Harrell and said she was touched by the way Experience students bonded to comfort one another.
"On some level, that has to make it more bearable," Byrnes said. "I'm not sure that would have happened just anywhere … it made you feel good about being a Villanovan, even at such an awful time."
Harrell's orientation counselor, Carrie Neff, said Harrell helped her feel comfortable as a first-time OC in her sophomore year.
"I had no clue what I was doing, but she was like this little bundle of joy," Neff recalled. "She was very enthusiastic – she came up and shook my hand right away."
Since they were a class year apart, their schedules were very different, "but every time I saw her she always said hi, always smiled and had a funny story to tell," Neff said.
"She put 100 percent of herself into everything she did."
Harrell's family has long been tied to the University. Her mother, Monica, works in the bursar's office. Her older sister, Monica, graduated last spring and her younger brother, James, is a sophomore at Villanova.
"It's a tragedy that hits many different segments of the University since she had so much family, friends and acquaintances here," Rev. John Stack, O.S.A., vice president of Student Life, said.
The funeral Mass was held late Wednesday morning at St. Gabriel's Roman Catholic Church in Norwood, Harrell's hometown.