DONOHUE: Holiday spirit is what you make of it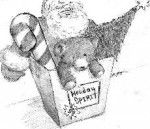 I've heard it said before that the holidays have gotten too commercial. With the influx of showy storefronts, the holiday once focused on giving is now all about what you give.
Maybe it's true that the world has gotten terribly commercial in general – advertising has become a real art. Is it not okay, though, if this commercialism inspires the spirit of the holidays?
A friend of mine actually notified me when Starbucks switched over to their holiday cups. I received a text message that essentially said, "Christmas is coming! Starbucks holiday cups!" Now, that didn't necessarily inspire me to go out and buy myself a cup of coffee, but it did have a considerable effect on my holiday cheer.
There is something supremely reassuring in being surrounded by the holidays, even if that means festive store wrapping and seeing Santa in shopping malls. At the very least, the holidays mean a day's break to enjoy peace, regardless of who you are or what you celebrate.
If Mariah Carey's "All I Want for Christmas is You" puts a smile on your face, or shelling out a fair amount to see "The Nutcracker" ballet performed is something you consider a holiday tradition, has commercialism attacked the core of the holidays: They should be about family and togetherness, without the trappings?
It is my opinion that holidays should be about tradition, and a little commercialism never hurt tradition. Seeing twinkling lights and snowflakes in the windows of residence halls all over campus fills everyone with a little joy at the thought of a future hiatus from schoolwork.
After all, even if we have long outgrown the stories of holiday miracles, there is a certain amount of magic and surprise that lingers throughout the month of December.
All in all, if commercialism indirectly helps everyone find that perfect gift for a family member or friend, is it not still in the spirit of giving? If it is still possible to feel that deep exhilaration when a loved one is unwrapping a gift that you have meticulously picked out, then I like to think that the commercialism of the holidays is not hindering spirit but rather enhancing it.
Sure, the holiday spirit is not present while stampeding into stores on Black Friday and walking over two or three people to get to that discounted kitchen appliance. Nor is it present in re-gifting the heinous, oddly lumpy blanket given to you by someone who did not know what to get you.
No, the holiday spirit is something that cannot be reduced by the commercialization of the holidays.
Instead, it's singing along with friends in the car to that carol that, yes, the radio station has been playing since November to induce a little holiday shopping. The holiday spirit is giving the perfect gift that didn't necessarily cost much. It is present in the 15th sequel to "The Santa Clause" that everyone will still pay $9 for a ticket to see because the first installment was such a classic.
Of course, I will bow to the official holiday spirit cliché and add that holiday spirit is best found in free things, leaving commercialization aside for once in this highly material society.
That first snow that you swear glitters more than ever before, the enchantment of sleigh bells that jingle in December air, the candles on a menorah or in the window of houses on your block or that magical moment when you flip the switch and the lights come on for the first time, glimmering in the dark. These are true embodiments of the Christmas spirit.
——————–
Caity Donohue is a sophomore English and secondary education major from Northbrook, Ill. She can be reached at [email protected]