Nursing professor receives global award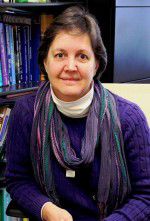 On Oct. 24, Professor Ruth McDermott-Levy received the Nurse as Global Citizen Award. The University nursing professor is not the first person to win this award, as Dean of the College of Nursing Louise Fitzpatrick also won it in 1997.
The award is given annually by the Pennsylvania State Nurses Association to just one nurse in the state of Pennsylvania.  
McDermott-Levy is grateful for the honor.
"Certainly the recognition has been nice," she says. "I've worked internationally for years, so it paid to get recognition for my work," McDermott-Levy says.
McDermott-Levy, however, was not present at the ceremony to receive her award because she was in Oman evaluating a nursing program.
This is one of at least four trips that she has made to Oman since she started working with the program in 2002.
McDermott-Levy first became interested in the Oman program when she was doing her graduate work here at the University.
According to McDermott-Levy, she was in class with a group of nursing students from Oman and found that she worked well with them.
Currently, McDermott-Levy serves as the undergraduate adviser for Villanova's Oman nursing program.  
In addition to teaching and guiding nursing students from Oman, McDermott-Levy has been involved with the University's Nicaragua project.
The Nicaragua project is an annual trip to Nicaragua that includes participants not only from the College of Nursing, but also the Villanova School of Business and the College of Engineering.  
Since McDermott-Levy started teaching at Villanova in 1996, she has traveled to Peru once, to Nicaragua five times and to Oman on at least four occasions.
Something that she values about the Oman nursing program is that after they graduate with a nursing degree, many nurses go on to fulfill leadership positions in healthcare.
In fact, the current director of nursing at the Oman Ministry of Health is Villanova graduate Majid Al Maqbali.
In addition to many of her adventures abroad, McDermott-Levy is deeply involved with the Arab-American community of North America. This entails going into Philadelphia at least every two weeks to work with female Arabian immigrants. She currently works with the Breast Health program, which is funded by Susan G. Komen.
According to McDermott-Levy, the program recently received more funding, allowing them to train many Arab immigrants to teach their peers about breast health.
In addition, she and the other volunteers are planning to train the women to do house checks, implementing standards of environmental health within the Arab community of Philadelphia.
With her experiences both abroad and in Philadelphia, McDermott-Levy was able to pinpoint her favorite aspect about working internationally.
"I love how much we have in common and how much we can learn from each other as nurses," she says. "As I move forward there are opportunities to collaborate and it is wonderful to see the growth of international nursing."