Football opens season on the road against UConn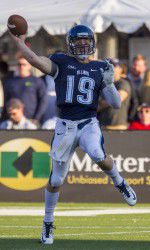 Villanova has not beaten an FCS opponent since its 2009 National Championship season when it opened the year with a 27-24 victory over the Temple Owls.  Tonight, the Wildcats will have an opportunity to end that drought against Connecticut.
Despite losing in its last five games against FBS opponents, Villanova has been on the doorstep of victory recently, most notably in its heartbreaking double overtime loss at Syracuse in last year's opener.
This time around, Villanova will look to improve in a number of areas in order to break through and leave Connecticut with a win.
First, the Wildcats will need to find an additional threat on offense to compliment senior quarterback John Robertson.  The reigning Walter Payton Award winner accounted for 314 of Villanova's 389 total yards against Syracuse last season. Robertson was able to spread the ball around in the passing game, and was the primary ball carrier with 34 rushing attempts for 115 yards.
While Robertson is by far the most dangerous weapon on the field for the Wildcats, expect the offense to put the ball in the hands of other players early in the game to keep the Huskies' defense in check.  
One of the best candidates to take pressure off of the quarterback will be senior Gary Underwood. The versatile running back can make plays in the running game and is a reliable pass catcher out of the backfield as well.  Senior Kevin Gulyas is the Wildcats' top returning wide receiver and will likely be Robertson's favorite target downfield.
Defensively, Villanova will need to limit big plays and use the experience of nine returning starters to its advantage.  Last season, the Wildcats were burned by a 65-yard touchdown run by Syracuse's running back in the first quarter.  Later, they were caught off-guard by a fake field goal in overtime that ultimately decided the game in favor of the Orange.  
"Defensively, I think we're going to be better," Head Coach Andy Talley said in a press conference earlier this week.  "With nine starters back we'll be better, and we're faster.  I'm concerned with how we hold up on the run, and I think [Connecticut] will test that early."
Senior linebacker Don Cherry will lead the defense against any early test from the Huskies' ground game.  The Wildcats' leading tackler from a year ago earned multiple preseason honors, including being named to the FCS Defensive Player of the Year watch list.
Connecticut will have some fresh faces that will challenge Villanova's defense, starting with quarterback Bryant Shirreffs.  Although the redshirt sophomore has been taking first-team reps since spring practice, he was not officially named the starting quarterback for the Huskies until last Sunday.  
A transfer from North Carolina State, Shirreffs will take over an offense that had just 12 passing touchdowns a year ago.
Shirreffs will have a group of true freshman wide receivers at his disposal, including Tyraiq Beals, who has a chance to emerge as a major contributor in Connecticut's offense.  
The unfamiliarity at the quarterback and wide receiver position is another reason that Villanova's defense should expect a heavy dose of Husky running backs.  Sophomore Ron Johnson was the team's leading rusher a year ago, and will be joined by sophomore Arkeel Newsome and senior Max DeLorenzo as the primary options in Connecticut's running game.
The Huskies won only two games last year, but second-year Head Coach Bob Diaco's squad has all the necessary pieces for a more successful season.  The Wildcats will have a chance to stall Connecticut's improvement by pulling off the upset over an FBS opponent in Hartford.  
Kickoff is scheduled for 7:30 p.m. and the game will be broadcast live on SNY and ESPN3.com.