The Return of the Yik Yak App to College Campuses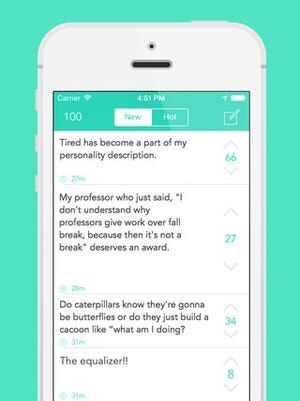 The social media app Yik Yak has taken over the University. While the app was popular during the early 2010s, Yik Yak recently relaunched in 2021 after a shutdown in 2017, due to a lack of users. The app is an anonymous platform on which users can post short comments about anything, upvote or downvote others' comments and comment on posts. It is based on a geographical range of around five miles, so all comments seen are locationally based. This makes Yik Yak the perfect app for students to comment on their experiences.
Villanova students have been using the app to comment on the food, people, events and everything in between that occurs on campus. 
"The pumpkin muffin from Holy Grounds is the best food I've had all semester," one person commented. 
Many use their posts as a way to satirize the school in a funny, lighthearted way. 
For example, a popular comment reads, "Tell my mom I love her. I don't think I'm going to make it up to 4th floor Tolentine this time." 
Villanova students have become obsessed with checking out Yik Yak multiple times a day to hear any current news. 
One person went as far as to post, "The way I treat Yik Yak like a reliable news source for campus happenings." 
All current gossip and events are almost guaranteed to be mentioned on Yik Yak. For many, the app has become a creative outlet to speak on issues or topics that they would not normally mention. 
There is also a controversial side to Yik Yak, despite the amusement it brings to many college students. In the past, the app was prone to comments of bullying and harassment, which can be harmful to the victims of such comments.
According to USAToday, the cyberbullying and threats posted on the app played a large part in the loss of users that led to the ultimate 2017 shutdown, as many schools banned the app.  
Stricter rules for bullying messages, hate speech, threats and sharing private information are part of Yik Yak. 
In an NPR article, the founders of Yik Yak spoke on the intolerance for hateful speech and the implementation of immediate banning by those who do not respect the rules. However, past bullying language could pose an issue on the University's campus as specific people or groups on campus could be targeted, although it may be done in a joking manner. 
In the past, Yik Yak was a temporary fad that ended up fading out after a couple of months of usage. While the app may have an ultimate deadline, its current presence provides a great source of entertainment to the student body.
 "I am constantly scrolling on Yik Yak whenever I get bored, and I can see plenty of other people doing the same," sophomore Katie Keane said. 
For now, Yik Yak remains a harmless social media platform that bonds students on campus through sharing the personal experiences of college life.