Football's roller coaster season reaches midway point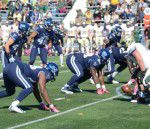 The Wildcats came into the 2015 season with the expectation of competing for a National Championship. Behind Walter Payton Award Winner John Robertson and an experienced defense, 'Nova had its eyes on a CAA Championship and a deep run into the FCS Playoffs.
After Robertson was sidelined indefinitely by a PCL injury against Delaware in the third game of the year, it seemed that the team's expectations for this season would change drastically.  In addition to losing their All-American quarterback, the Wildcats also suffered a slew of injuries to key players on both sides of the ball that would have implications as the season progressed.
Redshirt freshman quarterback Zach Bednarczyk filled in for Robertson and led Villanova to a thrilling fourth quarter victory against the Blue Hens on Parents' Weekend.  There was tremendous optimism surrounding Bednarczyk's performance, but the Wildcats had still clearly fallen behind following the numerous injuries.
This became evident when Villanova fell to Penn at home the following week in a game that was completely controlled by the Quakers.  Despite losing in the matchup for the first time in 104 years, Head Coach Andy Talley and the Wildcats kept their heads up and looked forward to learning from the loss and preparing for conference play.
After a bye week, Villanova hosted William & Mary on the first weekend of the University's fall break.  The Tribe, who is emerging as one of the top teams in the conference this season, scored 35 unanswered points after falling behind early and spoiled the 'Cats afternoon with a 38-16 defeat.
Bednarczyk was underwhelming in that game, completing just 13 of 31 passes for 164 yards and two interceptions. Villanova's only scoring came from running backs Gary Underwood and Javon White, the latter of whom found the end zone on the ground late in the fourth quarter after the Wildcats had fallen into a nearly insurmountable deficit. 
William & Mary brought a balanced offensive attack that saw running back Kendell Anderson gain 149 yards and score three touchdowns on the ground while quarterback Steve Cluley threw for 267 yards and a touchdown while completing 16 of 28 pass attempts.  
Even after the long bye week, Villanova looked as though it was not going to be able to overcome the adversity that had fallen on its team.
"We obviously are not where we need to be to win in this league right now," Talley said in the press conference following the loss.  "All in all not a very good game for us."
One area in which Talley stressed the need for improvement was the experience of his quarterback.  The game against William & Mary was just Bednarczyk's second career start and Talley insisted that his quarterback would continue to improve as he logged more time as the starter.
On the second weekend of fall break, the Wildcats traveled to Albany for the first time in program history with a chance to rebound as a team and allow their young quarterback to gain experience, as his coach had alluded to a week earlier.
After struggling in his first two starts, Bednarczyk responded by completing every one of his 12 pass attempts for 152 yards, two touchdowns, and, most importantly, no turnovers.  His flawless performance earned him CAA Rookie of the Week honors.
The Wildcats also found a rejuvenated rushing attack, which had been their strength over the past few season.  They totaled 269 and three touchdowns as a team, including 124 yards and a touchdown on 16 carries by White.
Villanova's defense shut down Albany, recording its first shutout since November 2013 against Rhode Island.  With a 37-0 victory, the 'Cats are revamped and ready to face another tough opponent when they go on the road to face Towson this Saturday.
After six games, the Wildcats boast a 3-3 record and are 2-1 in the CAA.  While this is far from where they had hoped to be at this point, it is still better than many may have thought 'Nova could do after losing Robertson.  After three starts, Bednarczyk has completed 58.7 percent of his passes for 558 yards, four touchdowns, and three interceptions.
White is the team's leading rusher at this point in the season.  The junior running back has averaged 5.8 yards per carry this season and has scored two touchdowns on the ground.  
Underwood has been a steady compliment and has shown his ability to make plays both rushing and receiving the ball.  He has four total touchdowns and is the team's second leading receiver behind senior wide receiver Kevin Gulyas. Gulyas is still the primary target in the passing game and has gathered 21 receptions for 398 yards and three touchdowns to this point.   
Defensively, senior Don Cherry and junior Austin Calitro have been two of the best linebackers in the CAA. Cherry averages nine tackles per game, good for sixth in the conference.  Calitro has been a pleasant surprise for the Wildcats' defense, averaging 8.2 stops per game and ranking eleventh in the conference in tackling.
Senior safety Cameron McCurry has added 38 tackles from the secondary.  He was named CAA Defensive Player of the Week following the Wildcats shutout of Albany after grabbing two interceptions and forcing a fumble.
The Wildcats have five games remaining and will need to pull off a few upsets if they wish to keep their name in the FCS Playoff conversation.  This Saturday, the 'Cats' defense will be tasked with slowing down Towson running back Darius Victor who is fifth in the CAA in rushing with 95.5 yards per game and nine touchdowns.
The Tigers also have the CAA's second best run defense that will be targeting White, Bednarczyk and Underwood and looking to slow down the Wildcats' rushing attack.
With momentum from its impressive victory last weekend, Villanova will look to continue to build throughout the remainder of its schedule.  
With opponents such as Towson, Richmond and James Madison still on the schedule, the Wildcats will have plenty of opportunities to make a statement and earn an FCS Playoff berth.  But they will have to do just that – earn it.