A Star is Born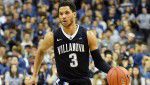 The date is December 6, 2014. 
The Wildcats have just executed a routine annihilation of their Big-5 competition, St. Joe's. They conclude the game "throwing their V's up" with the fans, as they do every home game, and then high-five one another on the way to the locker room.
Business as usual. 
The continuous patter of computer keyboards echoes in the empty press room. Reporters' minds are spinning; is there anything to write about following a 28-point blowout? 
From the locker room, out comes Jay Wright, followed by Josh Hart and Darrun Hilliard. Hilliard is the team's leading scorer, but there has been a slight change of the guard against St. Joe's tonight.
For the first time in his career, it was the underclassman Josh Hart who led the team in scoring, with 12 points. 
The trio takes its seats at the podium and is asked about the "Holy War" rivalry. Reporters also ask Wright about his sophomore guard's performance. 
"I'm telling you, [Hart] could average 20 right now," Wright said. "On this team we just don't need someone to do that. He's one of our best defensive players, one of our best rebounders, definitely our best energy guy. He brings so much to our team. You'll see in years to come there's a lot more there."
And that was the capital-T Truth according to the prophet, Wright. 
Villanova suffered its first conference loss of the season to Providence College. Amidst blizzard conditions, the Wildcats went cold in the second half and lost at the hands of the prolific Friar duo of Kris Dunn and Ben Bentil.
Of course, Hart led the team in scoring; it's what he's done all season long. Hart scored 18 points on 8-18 shooting, secured five rebounds, and chipped in defensively with two steals. 
For some players, this stat line would be a career night. For Hart, it was a poor performance.
"That was not a good game for him, but his bad game is 18 [points] and five [rebounds]," Wright said. "For a lot of guys that would be a good game. He's feeling frustrated about some of his turnovers and rebounding against Providence." 
Wright was right last year. Hart can score 20 points on a "bad night," or put up as much as a career-high 27 when he's in a groove.
"I don't feel a certain responsibility," Hart said about his status as the team's leading scorer. "I think everyone in the locker room has scored in double-digits. From this point on, anyone could be the leading scorer. We've been successful with me having two points or me having 20 points."
Hart is wrong, of course. He hasn't scored as few as two points this season. 
Not even close. 
He has scored double-digits in every game this year, and he's done so without losing his efficiency. As his usage percentage has climbed nearly five percent, making Hart the most featured player in Villanova's offense, his field goal percentage has improved steadily each year, from 50 percent to 51 percent to 52 percent.
This consistency has been the trademark of Hart's game throughout his three years at Villanova. Yet every year, he receives additional responsibility. 
This year, he has evolved from a complementary player to the primary playmaker for the team. 
"The biggest responsibility I have is reading the defense and being a playmaker and getting other people shots," Hart said. "Since I am the leading scorer, that's where my decision-making and my playmaking has to take over."
In addition, Hart has put in the time to learn the sets and motions of the Villanova playbook from all five positions on the court. 
"I know every position on the court, so Coach Wright puts me at any position," Hart said. "Knowing every role and every play from every position gives me confidence. He's putting his trust in me, so I don't worry about being 0-10, 0-11."
Hart's confidence is supreme right now. He knows it, his teammates know it, and his opponents are terrified by it.
Hart has never lost back-to-back games in his career. Maybe it's the product of Wright's "attitude" mantra, or his "get better each day" approach. 
Or maybe it's because Hart takes each loss, like the heartbreak against Providence, so seriously.
"I went in my room and locked my door and didn't talk to anyone for 3-4 hours," Hart said. "That's just how competitive each of us are."
When Hart opened the door to his room, he wanted to clear his mind. He played video games with friends, ate, and slept. Then, two days after the loss, Hart laced up his Nikes and prepared for what Wright called an "attitude day."
"We came in to rededicate ourselves to our habits," Hart said.
The next game on the schedule for the Wildcats was against the worst team in the conference, St. John's, last Sunday. 
Hart would, of course, lead the team in scoring (16 points) and rebounding (11 rebounds) in a victory over the Red Storm.
But it was a game of added importance for Hart, who would be returning to Madison Square Garden for the first time since he dominated the 2015 Big East Tournament and secured the tournament MVP award.
"When you get out there, around the court is dim but the court is so shiny," Hart said, cupping both hands beside his cheeks in giddy excitement. "It's a surreal feeling. This is what I've been dreaming about since I've been a little kid."
Hart grew up watching Big East legends go toe-to-toe at "The Garden." Now he's becoming a Big East legend himself, who is itching to return to the Big East Tournament where he can duplicate his personal and team success.
"I'm not trying to look too far ahead," Hart said, laughing. "But I have a bit of momentum from last year going into this [Big East Tournament]."
Following the St. Joe's game last season, Wright predicted he had an emerging star sitting beside him at the podium. 
Little did Wright know, he was sitting beside an evolving legend, one who is now finishing the third of four chapters in his epoch.