Wildcats advance to Big East Tournament final for second straight year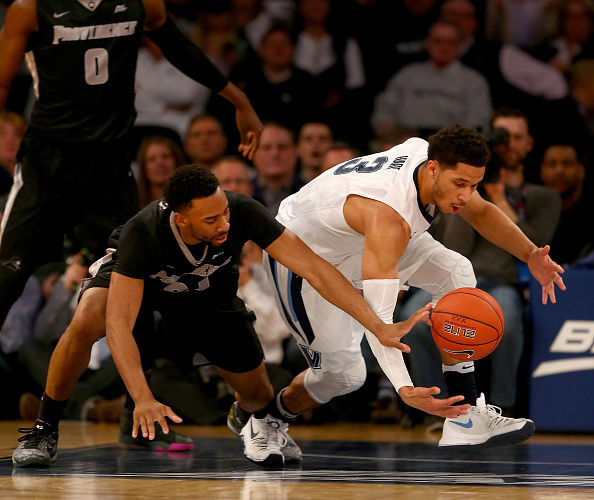 Five minutes into the second half of Friday night's Big East Tournament semifinal against Providence, Villanova's senior captain Ryan Arcidiacono flew across the floor to deflect a full-court pass intended for the Friars' Kris Dunn. Arcidiacono prevented the pass and his momentum flung him three rows deep into the seats at Madison Square Garden. After disappearing for just a moment, he rose to his feet along with thousands of fans in attendance who were applauding his tremendous hustle.
It has not yet been made official, but many believe that play was a personal record for Arcidiacono in the category of "farthest distance traveled into the stands." His hustle gave Villanova the energy it needed to hold off Providence and advance to Saturday night's championship game with a 76-68 victory.
After the game, Arcidiacono credited his parents for his hard skull, and Head Coach Jay Wright said that type of play is nothing unusual for his point guard.
"That's all he knows," Wright said. "He does it in practice every day. He did it in high school. He did it before he came to Villanova. I love it."
"I like it and I embrace it," Arcidiacono said about his all-out mentality when going after loose balls. "Anything I can do to affect the game on the defensive end and make the plays and get our team on top."
Arcidiacono finished the game with 15 points on 6-of-16 shooting. He was 2-of-3 from 3-point range and added seven rebounds and four assists to his well-rounded stat sheet.
Aside from Arcidiacono's daring dive, the Wildcats turned in a strong defensive performance as a team, particularly against Dunn and sophomore forward Ben Bentil.
Villanova held Providence's star duo to a combine 2-of-13 from the field and just 12 points. Bentil, who was coming off of a 38-point performance in the Friars' win over Butler, fouled out with 9:40 remaining in the game after scoring just 3 points.
"We did everything," Wright said about his team's effort to shut down Bentil. "I think our best defense was getting him into pick-and-rolls and driving the ball at him and getting some fouls. That was the best thing we did because it kept him off the floor for a while, and it eventually fouled him out."
The Wildcats' defensive success against Bentil was unexpected, especially considering the health issues that have been plaguing senior forward Daniel Ochefu since Tuesday. A sprained ankle caused Ochefu to play just 13 minutes against Georgetown on Thursday, and he was limited again on Friday as the Wildcats took on the Friars in the Big East Tournament semi-final matchup.
Ochefu entered the game at the 12:21 mark in the first half and logged 15 minutes of playing time. He was used sparingly but managed to score eight points, mostly on open layups in the second half.
Junior forward Darryl Reynolds made his fifth start of the season in relief of Ochefu. One of those five starts came on February 6 when the Wildcats defeated Providence on the road, and Reynolds shined with 19 points and 10 rebounds. 
Although he did not match the double-double he turned in during his regular season start against the Friars, Reynolds still played a major role in the Wildcats' victory. He finished with six points and a game-high eight rebounds and helped 'Nova to a 37-27 advantage on the boards.
Junior forward Kris Jenkins led Villanova's offense with a game-high 21 points on 9-of-14 shooting. As a team, the Wildcats shot 52.6 percent from the field and 41.2 percent (7-of-17) from 3-point range.
Even though their stars struggled, the Friars were able to hang around thanks to sophomores Rodney Bullock and Kyron Cartwright. Bullock led the Friars in scoring and rebounding, finishing with 18 points on 7-of-11 shooting and seven boards. He was 4-of-5 from beyond the arc and kept the Friars in the game throughout much of the second half.
Cartwright was Providence's only other double-digit scorer, adding 14 points on 6-of-10 shooting off the bench.
Providence shot a modest 45.1 percent from the field, but Villanova answered every shot and was able to prevent the Friars from completing their comeback attempt.
This was the second straight year that Villanova and Providence met in the Big East Tournament semifinals. The Wildcats will now turn their attention to Seton Hall in the championship game, which will be played tomorrow evening at 5:30 p.m.