Roenitz wins most voted SGA election in five years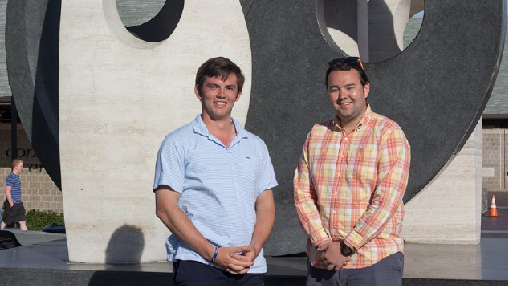 On April 19, current SGA President and Vice President, Kyle Lubiejewski and Pat Long, announced Robert Roenitz and John Puszcz as the winner of the SGA runoff election. Roenitz Puszcz won by 5.25 percent, or 135 votes. This election marked the greatest voter turnout, 2,575 students, in five years for SGA. 
"I feel pretty elated," Roenitz said. "We campaigned really hard, and it paid off, so I couldn't be any happier. John and I worked really hard. We are just happy to represent the student body. I just think this has been the hardest campaign I've seen at Villanova. I think we both worked our butts off to get as many votes as possible. We got out there online last night, all morning, so we've been doing a lot, and I'm glad a lot of people came out to vote."
Last week, 2,293 students voted in the SGA Elections. Roenitz Puszcz lead the election by only 0.708 percent over the Rogers Miller ticket. The Horner King ticket was eliminated after receiving 22.54 percent of the vote. 
As soon as Lubiejewski and Long announced the runoff election date, the remaining tickets, Roenitz Puszcz and Rogers Miller, intensively campaigned. Rogers was reportedly greeting students in the Bartley atrium, introducing himself and making a note of importance of every vote. Additionally, friends of Rogers posted in students' GroupMe's to remind others to vote for the Rogers Miller ticket. Roenitz Puszcz published various endorsement videos from Mikal Bridges, Phil Booth, Neil from Dining Services online, greeted students by the Oreo all day and created a SnapChat geofilter reading "I voted! For Roenitz and Puszcz." Over the weekend, Brian King publically endorsed the Roenitz Puszcz ticket. 
Roenitz and Puszcz's platform included addressing a number of issues on campus including ensuring transparency in the Public Safety transition, creating a more inclusive student government, working for a more compassionate alcohol policy, continuing improvements to the basketball lottery, adding clocks to the classroom and improving parking on campus.
The strong campaigning efforts gained 202 more voters for the runoff election. This election's voter turnout is significant as almost half of the undergraduate student body participated in the SGA election, perhaps marking an impressive increase in interest in SGA affairs by the students of the University.
CAROLINE FOLEY / THE VILLANOVAN