Zika concerns result in cancellation of athletics trips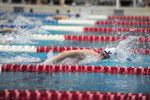 Due to concerns of the health risks presented by the Zika virus, three of the university's athletics teams' trips to Puerto Rico this fall were canceled, the Athletics Department said. 
The men's and women's swimming teams were expected to travel to Puerto Rico this past week for a fall break training camp. The Women's Basketball team was scheduled to play in a tournament there over Thanksgiving break. Both teams were supposed to stay in San Juan during their trips. 
The women's basketball tournament was moved out of Puerto Rico about two weeks ago after coaches and tournament organizers expressed concerns over the health risks, women's basketball team member Nicolette Juliana said. A men's basketball tournament was also set to occur in Puerto Rico alongside the women's tournament. The men's team was not scheduled to compete. 
When the basketball tournaments were relocated, the athletics department began to reconsider the swim team's soon approaching fall break trip to the same area, Associate Athletic Director Lisa Harris said. They considered how it would look to other student-athletes if one team's trip was moved because of health concerns but not another team's.
"It was a precedent set outside of Villanova that made us take a second look," Harris said. "Men are not as high risk, but their tournament was still moved, so we didn't want to appear not to be concerned about the health of our female student-athletes."
The decision to pull the swim teams' trip was made by Athletic Director Mark Jackson, the Associate Athletic Directors, and Sports Medicine, Harris said. Plans for both trips were made well in advance. At the time the arrangements for the trips were made, the Zika virus was not as big of a concern, Harris said. The Centers for Disease Control and Prevention did not indicate the area as high risk and only recommended visitors take precautions before traveling there. As the highest risks were for pregnant women, the Athletics Department did not worry much about sending its teams there. 
The final decision to cancel the swim teams' trip was made on Friday Sept. 30. The athletics department delayed telling the athletes until they could reschedule the trip, though they have had little success so far, Harris said. 
Both the swim teams and the women's basketball team were told of the cancelation of the trips the following Monday. Men's and women's swimming Head Coach Rick Simpson told his team in a meeting less than a week prior to their expected departure. The women's basketball team found out the tournament was relocated when their coaches emailed the athletes' parents, Juliana said.
"Earlier this year, some of us had talked about Zika, just wondering if it was a problem there but never thinking we shouldn't go," Juliana said.
The swimmers did not have serious worries either, women's team captain Mary Snyder said. The question was on the team's minds, but so much was unknown that it was mostly just speculation. Because no one was able to foresee what would happen with the virus, Simpson went ahead with the trip.
"It's an understandable frustration," Snyder said. "You don't want to put yourself at risk, but we look forward to the trip. The biggest shame was that it was canceled so quickly, but the team handled it well."
The CDC's website currently lists Puerto Rico as alert level two. They encourage travelers to practice enhanced precautions. Zika is spread by mosquitos, so they recommend travelers protect themselves from being bitten. Travelers are also encouraged to refrain from sexual activity to avoid transmission. Those infected with Zika typically show mild symptoms or do not show any symptoms at all, according to the CDC's website. A small portion of people infected with the Zika virus can also develop a rare disorder called Guillain-Barré syndrome, which can cause muscle weakness and paralysis for a few weeks to several months. 
The women's basketball tournament will still be played over Thanksgiving but will instead take place in Daytona Beach, Fla., Juliana said. The men's tournament will be played there as well. 
The swim team's trip has been moved to winter break after New Year's. They remained on campus over fall break. Coach Simpson is still working on the plans, but is looking into locations in Florida.