No. 3 Villanova Defeats St. John's 70-57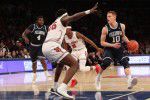 The Wildcats extended their winning streak against St. John's to ten games with a 70-57 win at Madison Square Garden on Saturday. With another win against a conference rival The Wildcat's winning streak grew to three games behind a game and career high 19 points from Redshirt freshman Donte DiVincenzo.  
While Senior Captain Kris Jenkins struggled going 1-10 from the field, his teammates were able to pick up the slack with Mikal Bridges putting up 12 points and Josh Hart adding 11. However, most of the praise must be reserved for DiVincenzo who managed his career high 19 going 7-10 from range while coming off of the bench.
The Wildcats moved to 17-1 overall and 5-1 in BIG EAST conference play, which kept them atop the division. Meanwhile St. John's fell to its fourth defeat in a row putting put them at 8-11 overall and 2-4 in conference play.
Though the Wildcats won by a comfortable margin of 13, most of the game was hotly contested. St. John's started the game on a 6-0 run that left Head Coach Jay Wright visibly frustrated. St. John's would continue to trouble the defending National Champions behind a team high 13 points from Freshman Shamorie Ponds.
Jay Wright's men had an uncharacteristically tough game from beyond the arc, going 7-21 on the day. St. John's would hang around until deep into the second half of play when the Wildcats went on a 7-0 run that put them up 60-48 with just 4:56 left in the game.
The Wildcats will look to continue their winning form at home in the Pavilion as they square off against Seton Hall on January the 16th at 6:30 p.m.