Wildcats best No. 15 Xavier in 46th consecutive win at the Pavilion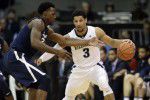 With 6:15 left to play, senior guard Josh Hart slashed through the lane and slammed home a two-handed dunk, giving the thunderous crowd at the Pavilion something to cheer for in the Wildcats' 79-54 win over No. 15 Xavier on Tuesday.
"My parents tell me, 'just go get it,'" Hart said. "Sometimes I go through a reckless abandonment mentality, but I'm not scared to get hurt. That stuff doesn't even enter my mind."
At a young age, Hart has seen the worst of things happen to him. The adversity he has overcome was addressed earlier this week on "Inside the BIG EAST" on Fox Sports. One of the largest challenges he faced was when his childhood home was burned down in an electrical fire.
"I was just shocked," Hart said. "You don't have a home to come back to. That was tough, but you just had to start over. It was something that we couldn't dwell on. We had to pick up the ashes and keep it moving and build from that."
Things started looking up for Hart when he was recruited to play basketball at Sidwell Friends School, the same high school that President Barack Obama's daughters attend. But things quickly went south after Hart received a letter in his sophomore year dismissing him from the school due to poor academic performance.  
"When I got that letter, asked not to come back, I was like, 'man, what now?'" continued Hart. "I felt like I was getting better, I was showing progress. That was probably one of the low points of me.  That's when everyone rallied behind me."
With support of his classmates, his dismissal was removed and he was able to excel academically in addition to his success on the basketball court. He soon caught the attention of Villanova Head Coach Jay Wright, and has blossomed into one of the best players in college basketball. This season alone he has scored 37 points over Notre Dame, 25 against DePaul (including the team's final 10) and continued with a 20-point performance against Xavier Tuesday night. Through all the adversity, no challenge seems to phase Hart, especially the ability to take over a game.
"I just got to make the right play," said Hart. "It's not always for me to score, it's to be a playmaker. At times when teams are playing me one-on-one and I'm able to get to my spots, I want to be aggressive and try to score. If not, I have to be able to trust my teammates."
One of those teammates is fellow senior Kris Jenkins, who had a matching 20 points against Xavier. The Gonzaga High School grad knocked down shots from the outside, including 12 points from behind the arc, helping the Wildcats to their 46th consecutive win at the Pavilion.  
"It was a really good win for us against a very good Xavier team," Wright said. "Kris hit some key shots in the second half to really open it up."
The start of the game was rather sluggish for the Wildcats, as the Musketeers led for the first 16 minutes. Villanova was unable to hit shots early on, missing 16 of their first 20 shots.
Xavier, on the other hand, was hitting theirs. Sophomore Edmund Sumner and junior Trevon Bluiett combined for 12 of Xavier's 28 points in the first half, as both guards were able to hit shots on the outside and in the paint.
"I'm concerned about that," Wright said regarding Villanova's first-half play. "We did not start the game with energy and they did. They're comfortable coming in and they're a tough team. They've won a lot of big road games. They came in ready to go and we were not."
With 7:08 to go in the first half and the Xavier lead at 24-16, the Wildcats made a run of their own. Hart, Jenkins, and sophomore Jalen Brunson scored 15 of the next 18 points for Villanova and they went into halftime with a 34-28 lead.
 "About halfway through the first half, we got our defense going," Wright said. "I thought Donte DiVincenzo and Eric Paschall coming off the bench in the first half defensively sparked us."
In the second half, Villanova built off their momentum and played like a complete basketball team. The Wildcats went on a scoring outburst in the first 12 minutes, establishing an 18-point lead, 66-48. This was also due to Xavier missing 12 straight shots, from five minutes left in the first half to five minutes into the second half.
The Musketeers were unable to get a rhythm going in the second half, particularly from the three, as they were 1-for-12 behind the arc. Villanova established themselves in the paint, and they outscored the Musketeers 36-18.
Senior Darryl Reynolds was able to score on the block contributing eight of his 10 points in the second half. As Jenkins continued to hit shots from the outside and Hart attacking in multiple ways, Brunson continued to drive to the lane as well, finishing with 11 points.
In addition to his strong defensive play, DiVincenzo scored 10 points off the bench, as the 'Cats were able to hand Xavier their first loss in Big East play.  
Coach Wright was pleased with his team's second half performance, particularly Jenkins' ability to make shots.   
"Sometimes we rely on that, because when he hits a lot of them, they are deep," Wright said. "Tonight it was the end of the shot clock and then he just hit them. He's bailed us out a lot during his career doing that. When he does that and we get six defensive rebounds, then we're pretty good. If we just rely on him bailing us out or Josh bailing us out, we're not as good."
Villanova spent five weeks at the top of the AP Poll due to teamwork, not superstars. If Hart is not performing his best, he knows his teammates can back him up and pick up the slack.
"I have all the confidence in the world with them," Hart said. "To knock down shots, to make plays. If I can't score, I have to find them." 
The Wildcats are on the road this Saturday against Saint John's at Madison Square Garden. Tipoff is at 12 p.m. on Fox Sports 1.