The unique nature of the college experience, embracing the strange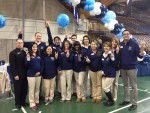 In honor of Early Action Candidates' Weekend and a time of welcoming prospective students into new chapters of their lives, reflecting on the particular institution that is university is much needed. We're told that it's the best four years of our lives and to hold on to it, to cherish the memories we make and live every experience to the fullest. However, while this could be very true, the concept of it is strange in how it has been set up by society. 
We work hard to "leave the nest" and to have the opportunity to discover who we want to become. Essentially, we choose to be shipped off to a new location, and create a new home. This is not limited to creating entirely new friend groups with people who are completely different than ourselves. 
No longer is mediocrity acceptable, as we have to force ourselves to try new things and have a voice when others least expect us to. We take on a responsibility to serve our community and our world in ways that would have been impossible without the resources and connections that a college provides. The peculiarity of university lies in the way it often changes people for the better and shapes thinking and questioning humans. 
In K-12 schooling, students are rarely challenged ethically, emotionally or philosophically. University is a chance to learn beyond memorizing facts—it's a place where questioning our faith and beliefs create the people we want to become and perhaps even change the course of the path that we were steadfastly holding on to for the better. We begin to ask ethical questions that start in the classroom but can be applied to difficult situations in our lives and in the everyday problems that our society faces. College is not for only learning but using the knowledge that we are given as a tool for making the world around us more beautiful and loving. 
It is fascinating how society has set up these institutions for the benefit of our world and the people who inhabit it. More than being places of learning, universities are also social centers for gaining new ideas and perspective from the people that surround us. Whether it be a new club we take part in or a social gathering, we're constantly learning about the type of people we are and want to become. The friends we interact with on a daily basis may differ, whether we're going to the dining hall for a meal or staying in on a Friday night, but each of these people create our college experience. They show us that regardless of waking up to your best friends being down the hall from you or in your daily classes, there are always opportunities to meet new people and live the uniqueness that is the environment of college. 
Whether we're skipping one class to study for another one or taking a 10 minute nap between classes, college is its own little world filled with abstract ideas on how to go about certain things in an effort to be as successful as possible. Even though universities have a lot to improve on, the general concept of the institution is thriving despite its strangeness. Students are being given the chance to learn away from what they've always known to be true, question themselves and the world around them and give back to the society all while cherishing new friendships and memories. Needless to say, giving up these small but essential things would not represent college and perhaps limit its strangeness and particularly its uniqueness as an experience.