Athlete of the Week: Ben Malone, Men's Track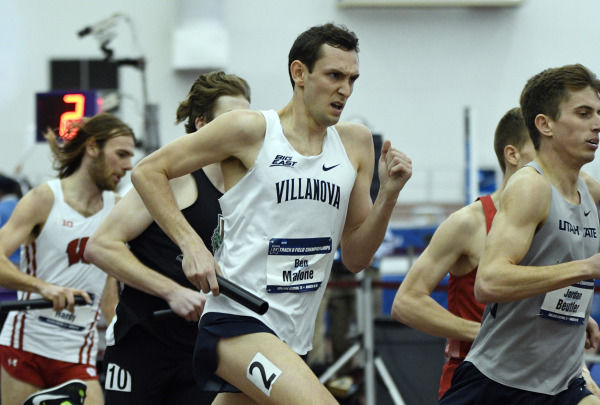 While one might think of senior Ben Malone for his accomplishments on the track, the distance runner has spent his time as a Wildcat doing much more than competing in races. Malone is a double major in economics and political science, but he most enjoys his Film Analysis class. 
As he rattled off the different parts of a film studied in that class, Malone sounded like he could hold a decent argument with any Academy Award voter. But despite his credentials as a movie critic, Malone plans to attend law school once he finishes his undergrad education—a pursuit he says was sparked by an interest in the complexities of international law.
With his double major almost fulfilled, Malone is focusing on enhancing his already impressive track resume. Malone made his first appearance at indoor track & field nationals this March, where his Distance Medley Relay (DMR) team finished eighth. He has also earned All-American honors, multiple individual and team BIG EAST titles, and a place on the exclusive list of only 39 Wildcats to record a sub-4:00 mile. 
"I really like our team going into Penn Relays," Malone said. "I haven't won a wheel, that's what you get when you win a Penn Relays title. All your teammates hold up this big wheel, I'm really hoping this is the year I finally get one."
A highlight for all Wildcats track & field athletes, the Penn Relays mean more to Malone than most. His sophomore year, Malone ran the anchor of the four by mile for the first time. "I ran awful," Malone said. After that race Malone shared a heart to heart with coach Marcus O'Sullivan and resolved to improve.
"It really motivated me, and I ended up having my best season to date after that," Malone said.
This ability to connect with his coach was of vital importance to Malone, as believing in O'Sullivan's program attracted him to the University. It was not only O'Sullivan's motivational skills that were a draw. Malone also cited O'Sullivan's experience as a four-time Olympian to a huge benefit.
In addition to running the 800-meter and DMR races, Malone also runs cross-country for the Wildcats in the fall. It is safe to say he prefers the team events.
 "All your teammates, you see them working hard everyday," he said. "To get a chance to compete with them is much more rewarding than running an individual race."
That isn't to say that having teammates around during distance practice is not extremely important. On the contrary, Malone insists that even when training for individual events, team training makes all the difference. 
"If you're having a rough day, you got a guy next to you keeping you along, that's the biggest help," Malone explained. "I mean, at the end of the day, we're still just a bunch of college kids. We're not just running out there in silence, we're having fun the whole time."
On and off of the track, Malone's favorite thing about the University is all the friendships and connections he has made in his five years here. He stressed that with all the ups and downs that come with any five-year stretch, especially college, having people to lean on and confide is critical.
Although like many athletes he does not have much time for organized extracurricular activities, Malone did mention that in his free time, he has been caught up in the Fortnite video game phenomenon. Apparently, the track star is just as skilled on the controller.