Former Wildcats Prepare for the NFL Draft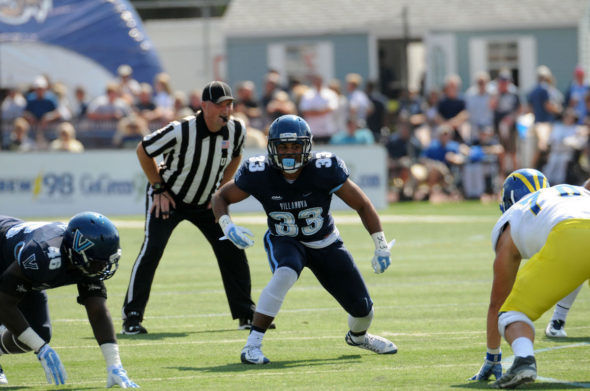 The lifelong NFL dreams of 256 young men will be achieved this weekend, as the 2018 NFL Draft kicks off on Thursday. The Cleveland Browns are selecting first overall for the second season in a row, after their "perfect" 2018 season in which they finished with an 0-16 record. Unlike the previous draft, however, there is no clear-cut pick with the first overall selection. While Myles Garrett was the type of generational talent who was a lock to be picked first last season, there is not one standout prospect this year. Anybody from USC QB Sam Darnold to Penn State RB Saquon Barkley could be the choice at number one. Combine this with the endless trade rumors and this year's draft should be exciting just based on sheer unpredictability.
While they are most likely not going to hear their names called during the first round on Thursday, two former Villanova football players stand a chance of being chosen in the Draft's later rounds. The first is defensive back Malik Reaves. Reaves played four seasons for the Wildcats at corner back. According to NFL.com draft analyst Lance Zierlein, Reaves should be a priority undrafted free agent, but also stands a shot of being selected in the 6th or 7th round. During his days at Villanova, Reaves had a reputation for being physical at the line with wide receivers, a skill made easier by his size. Standing at 6 feet tall and weighing in at 200 pounds, Reeves is a physical presence on the permiteter. However, with below-average athleticism when compared to other cornerback prospects, he could struggle to match up man-to-man with NFL wide receivers. Regardless, expect to see Reaves on an NFL training camp squad come this July.
The second former Wildcat with NFL hopes is linebacker Ed Shockley. Shockley started for the Wildcats at linebacker each of the past two seasons, leading the team in tackles in 2016 and 2017. However, despite his outstanding statistical production, Shockley has not garnered significant NFL Draft interest. Much of this has to do with size. Shockley is listed at 5 feet 11 inches tall and 235 pounds, undersized for the linebacker position. 
Of course, there are ways to overcome this perceived size deficiency. In spite of his lack of linebacker stature Shockley's athleticism could make him a perfect fit as a linebacker-safety hybrid that is quickly becoming more common in the NFL. Despite this possibility, Shockley should be, at best, a developmental pick in the 6th or 7th round. If he is not called on Draft day, expect to see him making an NFL training camp this summer. 
The Cleveland Browns are officially on the clock for the 2018 NFL Draft starting at 8pm, this Thursday. You can tune in on ESPN, Fox and the NFL Network. The later rounds of the draft will take place on Friday and Saturday; Rounds 2-3 begin at 7pm on Friday and Rounds 4-7 begin at noon on Saturday.