Getting to know Villanova Soccer's International Players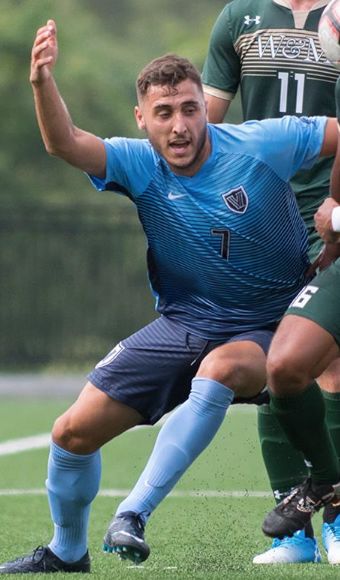 Making the transition to life as a college student is a challenging and daunting task for anyone, let alone someone who also has to shoulder the responsibilities that accompany life as a student-athlete. For international student-athletes, like the four currently on the men's soccer team, these difficulties are often heaped on top of the challenges of living in a foreign country. Although they all share the experience of moving abroad for a life as a Wildcat, the four of them, junior defender Luca Mellor of England, sophomore midfielder Yusuf Cueceoglu of Germany and the duo of sophomore midfielder Theo Quartey and freshman forward Seidu Shamsudeen of Ghana, took widely varying paths to the Main Line.
Not only did their paths vary, but more often than not they were not traditional ones. Mellor, for example, played his freshman season for an underachieving University of Pittsburgh squad before transferring  to join Villanova head coach Tom Carlin's program. 
"I wanted to be somewhere that had a good team… but then also academically setting me up for the future," he explained. Mellor's father had experience helping English women's soccer players acquire college scholarships, which made Mellor and his family more comfortable when Pittsburgh first scouted him at a trial match in England for young players looking for new opportunities.  
Quartey and Shamsudeen were not experiencing their first taste of life abroad when they moved into their dorm rooms on South Campus for the first time. Both participated in the prestigious Right to Dream Academy in Ghana, which led to them attending high school in Connecticut. "It gives kids the opportunity to go to Europe and sign a professional contract or come to America and get an education and play at the same time," Shamsudeen explained. "The kids that come here, it's very selective." 
Shamsudeen drove 13 hours multiple times a year to get between his home in the north of Ghana, Bolgatanga, and the academy, where he boarded, a couple hours outside Accra in the South. Shamsudeen has only gone home once in the almost five years he has lived in the states. "I miss home, I miss my family, I miss the food a lot," he admitted. 
Cueceoglu took a slightly more straightforward path, as the opportunity was first presented to him when two scouts approached him a few different times while he was playing for the academy of FC Köln. As he explains it, when it was time to decide what path to take, he had to choose between pursuing a professional career and signing a contract in German soccer's fourth division or coming to America for the college experience. 
Cueceoglu, who was recruited directly from Germany, had a much more detached recruitment than his teammates. He looked up the schools interested in recruiting him on the Internet and watched videos of them playing to help himself decide. "I didn't even know any players, I didn't even meet anyone, or talk to anyone," Cueceoglu confessed. 
At the end of the process, the fact that the Wildcats had another German player, midfielder Andreas Bartosinski '18, played a major part in Cueceoglu's decision to come to the Main Line. Bartosinski introduced him to the college system and that familiarity helped make Villanova feel like more welcoming. 
Shamsudeen as well, credits a familiar face in Quartey in helping him to see Villanova as an option as he first looked at Villanova his sophomore year of high school, the same year Quartey committed as a junior. Although admits he wanted Shamsudeen to join him on the Main Line, Quartey stresses he tried his best to work as an unbiased guide so Shamsudeen could make his own decision.
While Mellor's decision was primarily driven by a pursuit of excellence on the field and in the classroom, Quartey very much stressed on top of those qualities the positive environment emanated from the athletic department at the University as a whole. 
"I thought Villanova was the right place for me because I am given the freedom to grow in the classroom, on the field, and outside of both," he extolled. "You gotta be careful which schools really gonna be there for you when things are going well and when things are not going well, and I thought Villanova was the right fit for me."
Although all four players profess how excellent a job the University has done to help them adjust, there are still major unmistakable differences between playing for a university and for a professional academy, both positive and negative. Quartey observed that due to the many sports played in America compared to in Ghana where soccer is unchallenged as the most popular sport, the power that soccer can have to inspire people and bring them together is "overshadowed." 
Another major difference the four universally identified is how every player's goal at an academy is to play professional soccer, while at a university, as Mellor put it, "you're a student first." He also stressed how although it was a difficult transition to make at first, the culture in college is more conducive to forming a bond as a team whereas teammates are competing for places in a Starting XI. 
Quartey, sees this closeness as more of a similarity to his Right to Dream academy experience. As opposed to the culture in high school when most of the players on his team played soccer purely "for enjoyment," his teammates at Villanova and at the Right to Dream academy "have the same aspirations… and everybody on this team is seen as your brother, to work together to achieve a common goal."
One of the major challenges on the field, compared to in Europe or Ghana, is the tremendous physical strain and level of athleticism necessary in the college game. Not only is the style of play more physical and less reliant on individual skill, the college schedule packs the same 25 to 30 games academy players are used to playing in an entire eight month season into three to four months. In order to accommodate this reality, college teams more often than not play two games a week, a burden usually only placed on the most elite senior club teams in Europe. "Sometimes it's just really overwhelming," Shamsudeen admitted. "That's one of the things you have to be able to deal with."
On top of the intensive athletic commitment required of college soccer players, there is of course the rigorous academic commitment of life as a student-athlete to contend with. Mellor openly admits that while he is thankful for the advantages a Villanova degree will provide him, the rigorous academic commitments at the University take more time away from training than he would like. 
Cueceoglu albeit a little more sheepishly, echoes that sentiment in confessing his occasional confusion at having to take classes in a well-rounded variety of subjects, unlike what is common in the German university system where students know their major going into college and take classes strictly pertaining to it. "I have to take classes that I don't want to say I don't need, but that I don't need for my major," he explained. 
Quartey, on the other hand, was not taken aback by the educational system common to American universities thanks to his experience attending high school in Connecticut. This experience has helped him transition to college, saying, "it's kinda similar, where you constantly manage your time and balance your homework with your athletics." 
One thing that has made the adjustment easier for all of them is living in close proximity of a major city. Growing up in Accra, Quartey describes himself as "a city guy," while Cueceoglu admits he could not have attended a school with no cities around due to living in Köln his entire life. Mellor on the other hand, hailing from the smaller town on Huddersfield, has been thrilled with the opportunities and attractions near Philadelphia.