Report: Jay Wright Turns Down Lucrative UCLA Offer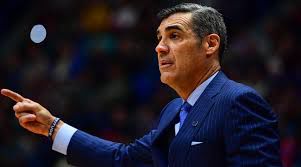 Throughout the college basketball world, the head coaching search at UCLA has been a hot topic over the last few months. As it turns out, a report from the Los Angeles Times earlier today revealed that Villanova's Jay Wright was one of the Bruins' top candidates.
"We would have loved for Jay Wright to talk out on the floor, but even when we offered to double his salary, he still wasn't coming. Nothing we can do about that. But I am proud of our effort," UCLA senior associate AD Josh Rebholz said. "We didn't assume anything, took our shots and I believe will end up with a solid coach who will embrace UCLA and build a program we all can be proud of and root for."
According to USA Today, Wright's salary is around $3.9 million, which means UCLA was willing to offer somewhere in the ballpark of $8 million, which would put him in the ranks of Kentucky head coach John Calipari and Duke head coach Mike Krzyzewski. After turning down the offer, Wright will be staying on the Main Line for the foreseeable future.