One Size Fits All Policies in College Football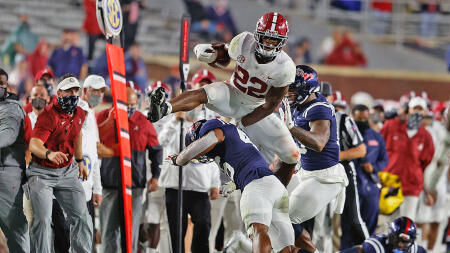 Jacob Artz Staff Writer
October 14, 2020
I have long been an advocate for the Power Five conferences in college football to work together to have the same number of conference games, non-conference games and rules. Amidst the pandemic, this is more evident when teams like Iowa State have fans crowd their games against top-ranked Oklahoma. Meanwhile, it is contrasted by the Pac-12 or Big Ten, which will not permit fans to attend their games this season, as well as the Colonial Athletic Association, which refuses to play until spring. The varying rules and policies need to stop so that committees can pick with better balance and excitement for fans.  
Scheduling is a problem. This is evident each football season when the Southeastern Conference allows for four non-conference games. Top teams, such as Alabama, take advantage of this by playing cupcake games, or games held against inferior opponents to rest players and perfect schemes. This is also done by teams in other conferences, like when Penn State opens up with Bear Valley Tech and Wossamotta U. 
This is a joke, but it always plays horrible teams to open the season. I give much credit to teams like Notre Dame and Oregon, who schedule tough opponents to begin the season, like Notre Dame playing Michigan last season or Oregon scheduling Ohio State this year before the pandemic realigned the schedules.  
The realignment to conference-only schedules could be the best thing for college football fans so that the teams are challenged weekly. These early season matchups give much intrigue to how these high-profile teams stack up and perform against another quality opponent. These tough early season matchups can ruin a team's chances at the playoff because of another team's unwillingness to play quality opponents in the beginning of the season. Instead, they choose to play teams from a division down in the FCS.   
Even if the power programs are playing cupcake games, I will still faithfully watch Penn State demolish teams, like when they obliterated Idaho 79-7 at Beaver Stadium last season. 
Fans are an integral part of the experience. According to 247Sports, the Big 12 will allow teams to have fans, with most schools allowing 25% capacity, and with Iowa State being the exception at 40%, which explains the abundant number of fans. According to ESPN, the Pac-12 will reevaluate its decision on having fans in January.  This seems like a new low for a conference that has been trending in the wrong direction in recent years with its quality of teams and its handling of this virus (they were the last conference to play football in the fall after all the others jumped on board).  
The Big Ten not allowing fans is a head scratcher, as its teams are in bigger traditional football markets and conducting higher stakes games.  Penn State, according to the York Daily Record, will only "accommodate those closest to our football program and enable them to cheer on their family members. The Big Ten's guidelines of families only will not permit us to welcome additional fans to Beaver Stadium in 2020."  
Schools like Ohio State and Nebraska were going to allow over 20,000 fans each, before the Big Ten halted those plans.
After having written this information, what is my point? 
My point is to have the conferences work together to make cohesive schedule protocols that will allow all conferences to play ten conference games, one game against another power five opponent and one game against a smaller school program. These games are important for the smaller school programs so they can be paid to give the bigger school team an easy win and use this money to improve athletic programs and facilities.
The alignment of conference games will give the committee a better gauge of how teams fared in tough competition throughout the season, and the one game against another power five opponent will treat the fans to great early season matchups like Clemson and Texas A&M, or Oregon and Auburn last season. As far as the coronavirus is concerned, it has to be handled on a school-by-school basis. The working together of conferences with scheduling and allowing the schools to implement their own policies will make this season exciting to watch.