Exploring Bryn Mawr: Bryn Mawr Film Institute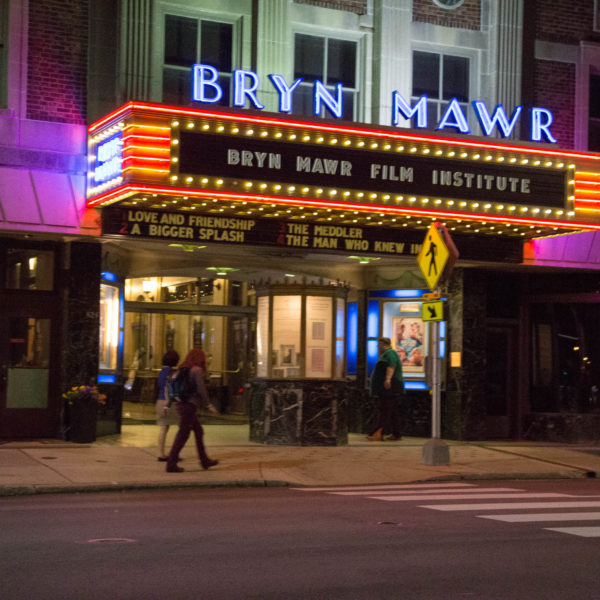 Bryn Mawr is full of hidden gems, including restaurants, shopping and entertainment. Right on Lancaster Avenue, the Bryn Mawr Film Institute (BMFI) is a great place for Villanovans to catch a movie right by campus. However, BMFI is much more than just a movie theater. There is history and tradition at this theater that cannot be provided at the new and fancy theaters we are used to, as it lives by the words "film" and "community."
According to Bryn Mawr Film Institute's website, its creation is a result of the rescuing of Seville Theater, a popular attraction for the Bryn Mawr community since 1926. BMFI's founding president and executive director is Juliet J. Goodfriend, who pushed for the transformation. The original Seville Theater was built to "emulate the big city movie palaces, with ornate chandeliers, intricate ceiling details, a dramatic sky-lit atrium and an exotic name all contributing to the immersive film experience." 
In the 1950s, the Seville Theater was then named the Bryn Mawr Theater, and then Bryn Mawr Film Institute in 2014 after the $5.5 million transformation. What makes BMFI different from other theaters is that it is a nonprofit, member-supported motion picture theater and film education center. BMFI also has an entire multimedia education space on the second floor for those interested in more than just watching a film. BMFI's cinema classic seminars offer a film showing with popcorn and a drink with a discussion leader from either local universities or in-house staff. 
The Villanovan had the opportunity to speak with Executive Director and CEO of BMFI Samuel Scott. He comes from a great background of film, as he founded a student-led movie organization at the University of Rochester, which still exists. When Scott left school, he got into production in Los Angeles and ended up working for a theater chain and was associated with Gene Roddenberry, who is known for creating "Star Trek." He then moved back to Philadelphia, and in the early 2000s, Goodfriend was putting together a group to buy Bryn Mawr Film Institute as New York Sporting Clubs was looking to purchase the building. In 2002, Goodfriend gathered a variety of philanthropists and businesspeople to purchase the theater and make it into a non-profit. After being a board member at the Baldwin School, Scott decided to join the board at BMFI, and in 2016, he and Goodfriend swapped positions, and Scott became the executive director. 
Scott also said that he will introduce the movies, talk about what the Institute is doing and some opportunities the Institute offers especially in memberships as that is a majority of BMFI's funding. Membership to BMFI could eventually lead movie-watchers to a full-time free experience with all the popcorn they could want. Of course, Scott mentioned that BMFI does benefit from sales, including popcorn and concessions, but unlike mainstream movie theaters, donations and events take the lead. 
"Unlike Regal and AMC, we are not driven by the dollar," Scott said. "We are mission driven."
Scott said that BMFI led the Philadelphia, South Jersey and Delaware market and have won all three of those titles in showings this past week. For national showings, BMFI is ranked tenth for the showing of "The Banshees of Inisherin."
"It is a full-time and then some job, but a wonderful experience," Scott said. 
Scott expressed the level of passion everyone at BMFI has about their jobs down to the person handing viewers their tickets. An experience driven on mission rather than profit is exactly why Villanovans should venture down the road for a one-of-a-kind experience at a unique movie theater. 
Some students have attended BMFI to catch a film, including juniors Andrea Campos and Madeline Barber.
"When you walked in right away, it gave you a sense of nostalgia," Barber said. "It was very comforting and brought you back to what movies would have been like when our parents grew up. It was a very cool setting." 
Barber saw "King Richard" and "Everything Everywhere All At Once."  She said that the actual theater was more traditional, but she was still able to make herself comfortable and had a great time. The demographic around her was a bit on the older side, yet she claimed that this enhanced her movie-watching experience even more. 
We often stray away from going to the theaters because of the various streaming services provided to college students, but venturing down Lancaster to grab a bag of popcorn and Coke for an in-person experience is unmatched.