Wildcats Ride Hot Streak to 73-62 Win Over St John's
Seven minutes into the game and trailing 10-4 against a dangerous St. John's team, Villanova head coach Jay Wright turned to his bench for an answer. 
After making their first shot, the Wildcats had missed eight straight field goal attempts, while the Red Storm had found success in the paint. Wright called redshirt sophomore forward Eric Dixon into the game, then motioned to freshman guard Jordan Longino to join Dixon at the scorer's table.
Within 12 seconds of getting into the game, Longino had hit a three. Within a minute, Dixon grabbed a rebound. Twenty seconds later, Dixon was open in the corner, hitting the triple to tie the game.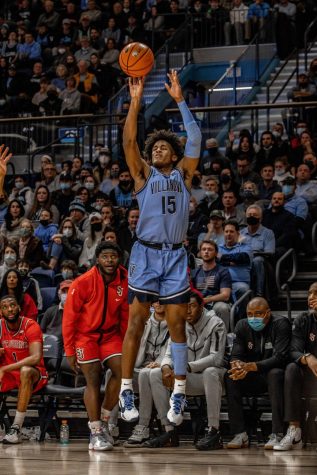 The Red Storm's Shef Smith hit a three after that to retake the lead for St. John's, but the damage was done, the Wildcats' offensive duck was broken. Villanova responded by hitting 10 of its next 11 shots to go into halftime with a commanding 40-26 lead, before cruising the rest of the way to a 73-62 victory.
"You look at 11 assists, 11 turnovers, that's really not that good against most teams,"
Wright said postgame. "But against them? Taking care of the ball prevents them from getting out… I think us taking care of the ball was really important."
Redshirt senior Caleb Daniels was the difference maker for Villanova, scoring 10 points in the first half and finishing with 15 on 5-10 shooting. 
St. John's did its best to make it close at the end, cutting the Villanova lead to just nine with 1:49 to play, but Daniels was the one to put the game to bed for good, swatting an attempted jumper deep into the student section and finishing the contest with a dunk on the other end.
"Just having a mindset of playing 40 minutes and staying on attack," Daniels said of his finishing blow. "I just made a play, Collin [Gillespie] sealed up the lane so I just decided to drive the ball and just dunk it and keep playing."
Gillespie was the game's leading scorer with 17 points, shooting a perfect 3-3 in the first half. Longino set a new career high with six points, but added a rebound, a steal, and more importantly, a spark off the bench Villanova desperately needed with junior guard Bryan Antoine out injured.
"He really helped us in the first half," Wright said of Longino. "[He] hit some big shots early when we were struggling. And then he did a great job in the second half, great job defensively. I was really proud of him."
After the first seven minutes, very little went right for St. John's. The Wildcats held the Red Storm's two-headed monster of Posh Alexander and Julian Champagnie to seven and nine points, respectively. 
"Justin Moore did a really good job," Wright said of the defensive effort on Champagnie, before going on to laud the team effort. "[We] doubled him a couple times. He's a serious offensive threat."
The Red Storm utilized a full court press throughout the game to force 11 turnovers from the Wildcats, but the Red Storm offense was only able to turn it into 14 points. When St. John's upset Villanova last season, it forced 17 turnovers, turning it into 19 points.
"They are a really, really difficult team to play," Wright said, later saying the Wildcats "survived" against the Red Storm.  "I don't know if [St. John's head coach Mike Anderson] still calls it '40 minutes of hell,' but they just keep coming after you, they never stop."
With the win, Villanova improves to 16-5, 9-2 in Big East play, while St. John's falls to 11-8, 3-5 in the conference. After a stretch of play where the Wildcats faced five straight unranked teams, the schedule gets tougher from here, with a Tuesday road matchup against No. 22 Marquette beckoning.
"Our mantra is [we] always want to keep getting better the next day," Wright said. "It's actually easier when you know the next team you got coming up beat you and they're a nationally ranked team. It shouldn't be this way, but it's human nature: they're a little bit more dialed in."