Main campus health center nears completion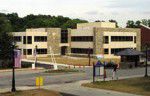 Students returning to the University this week were greeted by the new Health Services Center, which is located adjacent to Bartley Hall. Work on the building is nearly complete.
The project, which began last December, is "almost finished," according to Project Manager Marilou Smith of Facilities Management. Smith explained that offices should begin relocating on Sept. 9 after the building is inspected and paving and painting in the garage area are completed. "It's a beautiful facility compared to what we have now," Smith said.
The new building will house the Health Center, Villanova Emergency Medical Service (VEMS), the Counseling Center and the Center for Health and Wellness Education Additional space is the biggest benefit of the new building, as several offices report that their current locations lack the appropriate facilities for the services they wish to provide.
Health Services Center Director Rebecca Bramen said, "The new center is enabling us to streamline appointments and better accommodate students."
Seven exam rooms, modernized and comfortable in-patient rooms and extended hours are among the features the new center will offer.
In addition, this year the University is requiring a new Health and Wellness Fee of $125 per semester to cover some additional health services, including over-the-counter medication which is dispensed free of charge.
VEMS Captain Chris Anton said that the entire group is excited about the new center. The section that VEMS will occupy includes office space, a crew room with an open kitchen, a storage room, two bedrooms and a bathroom.
Dr. Joan Whitney of the University Counseling Services commented on the many benefits of the new facility. "More students are taking advantage of the counseling services offered on campus, and the increased office space in the new center will allow us to expand our capabilities to meet that demand," she explained. "The central location of all the offices makes sense, since there are a lot of overlapping issues with counseling, drug and alcohol, and health concerns," she added.
The facility will eventually be equipped with advanced technological resources, such as an audio-visual room to aid students in relaxation techniques. Workshops and ongoing support groups will meet in the new facility as well, and the University has already hired additional staff for the center. Whitney commented, "We're going to have a lot more space for things that just aren't possible in our current offices."