For love of the games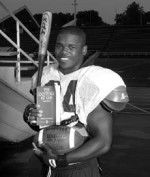 Football is life, the rest is just details.
While this may be the mantra for many college gridiron players across the country, it couldn't be further from the truth for Jamison Young. The senior linebacker is hard-pressed to find a time in his life when there wasn't a large number of interests and responsibilities competing for his attention.
From his passion and devotion to several sports, to belonging to a family stacked with athletic prowess, it's no surprise that Young has become one of the most well-rounded individuals both on and off the field for Villanova. And considering what he has to juggle on a day-to-day basis, his development has been nothing short of amazing. Young has the distinction of being Villanova's only two-sport athlete, dividing his time, efforts and talent between football and baseball, as well as keeping up with his work in the classroom. However, Young's biggest accomplishment has little to do with his status as an athlete or student: the same massive shoulders which Young uses to tackle opposing players and swing a baseball bat also bear the responsibility of full-time fatherhood. Yet despite all he has on his plate day in and day out, you won't hear very many complaints out of this young man. Young learned at an early age how to handle the type of pressure that would get the better of most people.
"To me, I guess the way I was raised it's just something that comes along with it," Young said. "It's just natural to me. Every once in awhile it's hard, but for the most part you kind of just go with the flow. Being a father, that's just one of those things that comes natural to you, and football I was raised on."
The youngest of two children of Richard and Joan Young, the native of Sicklerville, Penn. still remembers the days playing football in his neighbor's yard when he wasn't much bigger than his own 2-year-old son, Julian.
"I remember being young and putting my dad's shoulder pads on, me and my neighbor. The gutters used to fall off his house and we used to take them and use them as goalposts," he says with a smile.
It's memories like these that remind Young of his passion for the sport at a young age, a passion that has become embedded in his character and personality and has kept him focused on his goals throughout the many crucial stages of his life.
"A lot of times you forget about that, and you get caught up in other stuff. Especially now with this being my senior year, this is probably my last year playing football. It's easy to sit out there and enjoy what you're doing because you realize you probably won't get that chance again."
Young's appreciation and love for both football and baseball should come as no surprise considering his unique upbringing. In the Young household, being an athlete was not an exception but rather the norm. Young's father played football for Towson State and had a brief professional stint with the New York Jets, while his grandfather starred in baseball at Glassboro State and in the Negro Leagues. His mother was a member of the basketball team at Morgan State. Such an environment might lead many to take for granted the talent which makes it possible to excel in several sports, but for Young, it has had the opposite effect. Even in the midst of a demanding college football season, Young experiences moments that keep it all in perspective.
"Being out there against Hofstra, I remembered when my dad tried out with the Jets and I was like, wow, this is where it happened," Young says.
The storehouse of memories which Young has carried with him throughout his life are just one of his many sources of inspiration. When seeking that added motivation, Young again goes back to his roots.
"Automatically you go right to the family," Young says with conviction. "Seeing my son out there now,
that's where my strength comes from, and spirtitually staying in the Bible, and of course my teammates."
Entering his fourth and final season on the Main Line, Young is ready to take life's lessons along with a wealth of talent straight to the bank, a proposition which, if last season is any indication, could prove to be quite frightening for Atlantic 10 opponents.
"When the bell goes on, he's a player," head coach Andy Talley says. "He'll get the job done and he's among the best linebackers in our league."
Making the move from outside to inside linebacker this season will allow Young to attack opposing offenses from sideline to sideline, affording him the opportunity to best his team-leading 77 tackles total from last season. In his senior season, Young will now be called upon not only to terrorize the best attacks the conference has to offer, but to lead a new and improved defense both on and off the field. As always, Young is ready and willing to take on yet another responsibility.
"I want to try and set an example for some of the younger guys," he says. "How you carry yourself on and off the field and play hard."
Even early in preseason training, he sees the potential in this young team, a special chemistry which he expects to take 'Nova to new heights in 2002.
"Being out there with this team has been great. These guys bring you back to high school and you know you're out there with guys that just love the sport. Not to knock the other teams, but you didn't see it as much as you do this year. It's like playing street ball again with the kids."
Coach Talley and the Villanova faithful couldn't ask for a better leader.
"[Young] is just a classic nice guy," Talley says. "He's a great person who has done a great job of balancing his responsibilities. On the football field, he's a big-play player. He has great speed for a linebacker, and now that he's in middle, he has a chance to make big plays up and down the line of scrimmage."
Yet accompanying his ferocious play on the field will be a game face that is more often than not a smile rather than a scowl. After all, that is what got Young on the collegiate football field in the first place.
"When I was in high school, I thought baseball was it," Young says. "I thought that was going to be me. I always loved football but I couldn't really start playing until junior high, and once I started getting scholarships for baseball, I thought that was where I was going. So I figured, this is my last year of football, I might as well enjoy it. I had a good season and that's when schools started calling for football, and since they offer more in scholarships, I came here."
The move from the diamond to the gridiron has proven to be quite fruitful for Young and his Villanova squad, considering not only what he has done throughout three seasons but what he is capable of still accomplishing.
"I think I've done well here but I don't think I've reached where I should be at yet," Young says. "When I think of success, I think of reaching your potential. I think I still have a ways to go. Hopefully after this season I'll be able to say I did."
At the ripe old age of 21, Jamison Young has already amassed more accomplishments than most people aspire to in a lifetime, but if you ask him, he's far from finished. His goals for his senior season may seem lofty to some, but given his, at times, almost eerie knack for keeping it all together, one would be hard-pressed to believe he won't get it all done. His goals are many, but his focus is clear.
"I want to definitely try and make first team A-10, but you try and not get caught up in that stuff," he says. "I just play for myself and my teammates and the rest usually comes along with it. I've learned to not let outside things affect what you love and are passionate about, basically to play just for the straight love of the game."
The little boy in his dad's pads and gutter goalposts has emerged into a two-sport star on the cusp of what should prove to be a phenomenal senior campaign.
One could chose to remember Jamison Young for any number of his achievements, but what most people will remember is the common thread that ties them all together.
"Basically I want people to remember me as someone that always knew how to carry himself on and off the field, someone that fears God, someone that loves the game and who you always saw that passion in them."
Sounds like Jamison Young can add yet another accomplishment to that list.