New coffee shop opens at West train station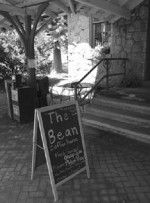 The University community and SEPTA patrons can now enjoy the delights of a coffee shop in a convenient location. The Bean, open since early August, is located at the R5 Villanova train station, between West and Main campuses.
The shop is the brainchild of alumna Heather Emillio, the wife of former "Campus Corner" owner, alumnus Renee Emillio. After her husband stopped his ownership of the popular campus pizza
shop, Emillio decided to open a business of her own. She began with "Sandwich Express" in Bala Cynwyd, and has since opened The Bean at the train station.
Employee Ashley Hawkins, a Philadelphia-area high school senior, commented on The Bean's ideal site, at both a train station and a university. "What better place to open a coffee shop," she said.
Although The Bean has no official affiliation with the University or Holy Grounds, the Wildcard is accepted as payment, and most of its employees attend the University.
Prices range from $1.25 for a cup of coffee, to a "poppa" size frozen drink for $3.75. Most of the drinks-chais, macchiatos, espressos, iced coffees and frozen drinks – cost between $2.50-$3.75. The most popular seller so far, according to Hawkins, is the frozen "Polar Bean" drink.
In addition to coffee drinks, The Bean also sells a variety of tea, bagels, muffins, cookies, brownies and biscotti.
Junior Steve Corbo said, "I was dismayed that I could not use my points in there, but the muffins were great."
"The coffee shop is convenient for the walk to Mendel, and the fat free muffins are a thin slice of heaven," agreed junior Chris Norton.
Open from 6:30 a.m. to 6 p.m, The Bean also featurespatio furniture outside the shop, which provides a place to sit down and relax.