Portrait of "Our Lady" makes for a gentleman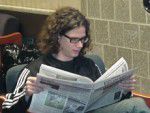 Before seeing Our Lady Peace on Nov. 23, I would have defined a rock star as self-indulgent, private and reserved. I can now say that I have now seen an atypical version a rock star.
Jeremy Taggart is not only a part of a band, but a part of a band that is very well known. Who is this gentleman? To those who know him through Our Lady Peace, he is the drummer. Though, to those who met him at the show, he is the life, laughter and meaning of real rock as it should be.
Upon passing by the Connelly Center, I couldn't help but notice a group of people sitting by the windows in the Villanova Room. Looking past them, there was the drummer of Our Lady Peace. What kind of band member sits where fans can hassle him? Actually, he hassles the fans.
When asked how the girl sitting next to Taggart knew him, she replied, "I just met him. I was reading, trying to get work done. He came up, sat down, and started a conversation." Intrigued, I started listening to conversation topics being discussed within the group. He wasn't superior or trying to be impressive. He was a normal guy that liked to discuss popular college topics, such as Halo strategies or the cool notion of the new "Grand Theft Auto."
"Me and Duncan Coutts [guitarist] actually have voiceovers in the new one," Taggart said. "So when you get like too many stars we start yelling at you. It's pretty cool. Though, we still don't have the game or even seen it for that matter."
After observing his actions and realizing his relaxed nature, I didn't think he'd mind if I asked a couple of questions. Remembering that the lead guitarist had just been replaced on the band's new CD "Gravity," I asked him if there were any implications behind it.
"Nope, not really. Mike [former guitarist Mike Turner] just had other things he wanted to do. We were fine with it, he was fine with it. No big deal," Taggert said.
Disappointed by a plain answer that didn't reflect popular website gossip, I continued to pry. The band's current producer is a new addition to its newest release, "Gravity." The band made a switch from its long time producer Allen Levine to Metallica's former producer, Bob Rock, in had been publicized as a critical issue.
"Allen was fine with it. He actually had a lot to do with his leaving the band. He wanted the best for us, and was looking to bet into other things. So, on came Bob and it was simply an amazing experience, man," Taggart said. A prominent theme seemed to resurface here. There were three possibilities: he didn't want to talk about issues, I was overanalyzing situations or hype that was being created within the band was not true. What is the real answer?
"Funny how people don't understand that we can be normal people, isn't it?" Taggert said. "I go on the internet all the time. It's a good laugh. You go on a webpage and read up on stuff that's going on in your life. Then you wonder where they get this bull, and they answer something like, 'Oh, I know it.' Oh really, well it's my life."
Taggert was playing in the band before he finished high school, which makes him one of the youngest members at 27. "I used to get the band in trouble when we'd go to bars. We'd head in, and they'd be like ID, ID, ID and it would come to me and I'd say 'Oh that guy's my dad.' Funny how humor can get you out of any situation," Taggert said.
In addition to his age, Taggert sticks out in the band as being the one that is allergic to everything, sleeps the most and has the worst personal hygiene. In fact, Taggert has "magic socks" that show up at every show. Good luck trinkets? Nope, Taggert simply likes how they feel.
Stating this very jokingly and commenting on it as "one of the greatest come-backs" he's ever had, the Steven Seagal look alike realized his overly excited state and left Taggert alone.
This conversation may not have been long, and it may not have been the best interview in the world. But, it changed my view on a band that I've loved since fifth grade. It still plays the same music. The drummer is still the same original band member. They still play the same music.
I now see that this band, these people, are just that … people. Nothing more, nothing less.