Nothing ordinary 'About Schmidt'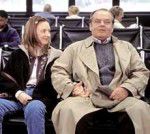 Warren Schmidt sits motionless in a chair in his office. The room is empty except for a pile of boxes neatly stacked next to the window. He stares blankly at the clock as the seconds tick away. This is the only sound we hear in the opening minutes of Alexander Payne's "About Schmidt" and it's the sound of Schmidt's life ticking away, one second at a time.
Jack Nicholson plays Warren Schmidt, a 66-year-old man who has just retired from an insurance company that he has worked for most of his life. He has been married for 42 years, has one daughter and lives a seemingly dull and uneventful life. Warren is stingy, spends far too little quality time with his family, is awkward around people and is uncomfortable at social gatherings. When his wife dies suddenly, Warren must deal with living alone in his Nebraska home with nothing to do and nowhere to go. Warren comes to the realization that "life is short and I can't afford to waste another minute." With that, Warren decides to take a trip to Denver, in an attempt to persuade his daughter Jeannie (Hope Davis) from marrying a spacey, mullet-haired waterbed salesmen named Randall (Dermont Mulroney).
Warren's trip is much more than a cross-country trek to prevent his daughter's imminent marriage; it is a journey that Schmidt takes into his past to rediscover who he is and what his life is really about. On the outside, he appears to be a simple man, but we discover how complex and complicated a person Schmidt really is through the letters he writes to Ndugu Umbo, a 6-year-old Tanzanian orphan he sponsors for $22 a month. Warren vents about his wife, his former job, his soon to be son-in-law and everything that has been bothering him through the years. However, Schmidt feels the freedom to write about his innermost thoughts on life, family and love.
"I suppose we're all pretty small in the big scheme of things," he writes. "I suppose all you can hope for is to make a difference. But what kind of difference have I made?" Schmidt grapples with this question throughout the film and finds the answer in the film's heartwarming conclusion.
Jack Nicholson does some of his finest work since his Oscar-winning performance in "As Good as it Gets." His acting is subtle, yet extremely effective in conveying the beleaguered and contemplative mindset of Schmidt. There are moments when he just sits around and says nothing at all while the action takes place around him, although Nicholson's character is clearly the center of attention. Nicholson transmits Schmidt's discomfort and often humorous clumsiness with almost effortless style and wit. The supporting cast is equally sensational. Dermont Mulroney is hilarious as Jeannie's harebrained fiancé and Kathy Bates nearly steals the show as the eccentric, loud-mouthed mother-in-law.
Jack Nicholson recently won a well-deserved Golden Globe for Best Actor in a drama for the role of Warren Schmidt. Alexander Payne and Jim Taylor III also won a Golden Globe for the film's brilliant screenplay based on Louis Begley's novel.
"About Schmidt" is a cheeky, witty slice of American life that you shouldn't miss. For more information about the movie, visit www.aboutschmidtmovie.com.