Dyson headlines King week celebrations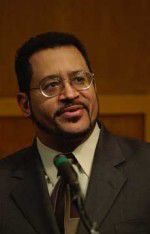 Addressing a capacity crowd in the Villanova Room for over three hours Tuesday night, Dr. Michael Eric Dyson delivered the keynote speech of the University's week-long commemoration of Dr. Martin Luther King Jr.'s life.
His speech, titled "I May Not Get There With You: The True Dr. Martin Luther King Jr.," used many topics from his recent book of the same name. Dyson is an acclaimed author, professor and immensely popular cultural critic.
He was introduced by Dr. William Werpehowski, director of the Center for Peace and Justice Education.
Dyson demonstrated his love of rap throughout his speech, frequently erupting in alliterative oratory outbursts and quoting such cultural music icons as Snoop Dogg, KRS1, and the progressive Mos Def to lighten the mood of the heavy topics that were discussed.
Dyson's lecture covered numerous racial issues, but he continually brought his speech back to King and the "radical legacy" he left the world.
He called King "arguably the most powerful man the United States has ever produced" who did not hold an official office. He blames King's association with the term "radical" on King's actions later in life, saying King "told the truth about the utterly miserable state of race."
Dyson also explained that King rocked the boat amongst blacks and whites alike, challenging the traditional paradigms of race relations. He noted that King's method of attaining civil rights was appealing not only to the conscience of the oppressed, but also to the political systems of the time.
Dyson also spoke on affirmative action and the tendency for people to twist King's words into anti-affirmative action sentiments. He claimed King never intended them to be taken in this way.
In addition to King's legacy, Dyson spoke about the negative representation of women in some hip-hop music, Sept. 11, a class he teaches at Penn on Tupac Shakur and influential individuals such as Condoleezza Rice, President Bush and Trent Lott. He ended his speech with a call to "not rush to judgment" and to "practice the courage of love."
After his prepared speech, Dyson entertained questions for over an hour on topics including hip-hop, Malcom X, police brutality, media portrayal of minorities and interracial marriages. He then signed copies of his newest book, "Why I Love Black Women," from which all proceeds go to the African-American Youth Book Fair which will be held at the Community College of Philadelphia on Feb. 1.
Dyson received his undergraduate degree from Carson Newman College in Tennessee and his doctorate in religion from Princeton University. He was recently hired as a professor at the University of Pennsylvania. Dyson's numerous books cover religion, Malcom X, black women, race relations and gangsta rap.