Off-campus fire displaces students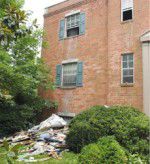 LOWER MERION – Several University students found themselves displaced in the wake of an off-campus four-alarm apartment fire Sunday afternoon.
Authorities said the fire began in the kitchen of apartment 11 of the three-story Bienville Apartments located at 256 W. Montgomery Ave. The blaze then spread to the apartment's roof and living room. Many other apartments in the complex suffered smoke and water damage.
It took five fire companies nearly two hours to extinguish the blaze.
No tenants were injured during the fire, but Charles McGarvey, Lower Merion Township deputy fire marshall, reported a firefighter from Bryn Mawr Fire Co. was injured fighting the blaze.
According to McGarvey, the fire started when cooking grease left on the stove ignited. The tenants had used the grease to cook french fries earlier in the afternoon.
Many residents of the complex said the tenants of apartment 11 were downstairs when the fire began. It remains unclear whether these tenants attend the University.
The Office for Residence Life offered to provide the displaced students with either temporary or permanent housing in Pennswood Hall of Harcum College. The University regularly rents space in this building.
According to Marie Schauder, assistant director for housing services, three students have inquired about relocating to Pennswood Hall, but none have committed to do so. The Office for Residence Life also provided the students with information about possible off-campus housing accommodations.
Senior Chris Alter, who lived across the hall from apartment 11, said the fire spread through the roof of the building and began coming into his kitchen.
"When the fire started, the central fire alarm didn't go off," he said. "My roommate and I had to go pull the alarm."
According to Alter, the only alarm that sounded on its own was in the room with the fire.
McGarvey said the fire alarms in the building worked properly.
Senior Tim McGovern learned of the fire when he woke from a nap. He went out to his porch and could see smoke billowing from the roof and an upstairs window. When he opened the door to his apartment, he saw smoke in the hallway.
"I grabbed my computer and ran outside," McGovern said.
McGovern plans to permanently move from the Bienville Apartments. "[My roommates and I] approached the landlords because we wanted to get out of the lease. They were pretty cool about it," he said. McGovern expects his landlords to return his security deposit and the last month's rent.
One of the largest complaints in the aftermath of the fire was the smoky smell penetrating the building. "It smells like someone had a barbecue in our apartment and barbecued our stuff," Alter said.
"I left my desk and bed behind," McGovern agreed.
Fire companies from Ardmore, Bryn Mawr, Gladwyne, Penn Wynne and Narberth responded.
The apartment's landlords, John and Mary Dougherty, did not return phone messages seeking comment at press time.